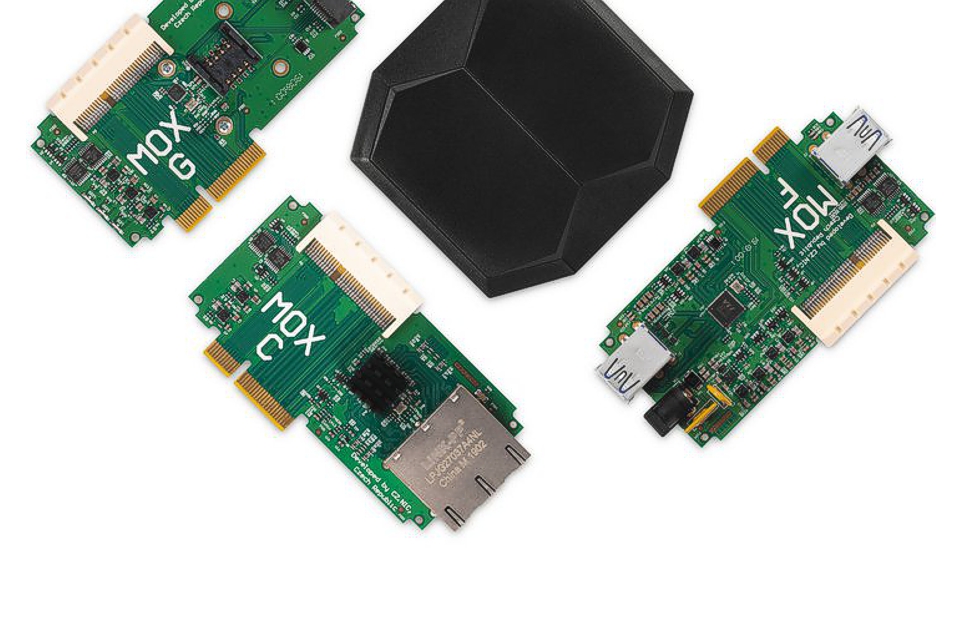 5. November 2019
VARIA
Turris MOX is a unique network device.
The Turris MOX offers the usual pins (I2C, GPIO, …), but also the unique MOXTET bus. With the MOXTET bus you can expand the MOX with various modules. It offers access to faster buses such as PCIe or SGMII.
The MOX is based on the Marvell Armada 3720 Dual Core Armv8 CPU with 1 GHz and offers 512M or 1G RAM. On the memory side, it has a micro SD slot and an 8 MB SPI-NOR flash memory with submarine and rescue system.
The CPU of the Turris MOX has two network interfaces. eth0 – the first – is connected directly to the Gigabit Ethernet port of the CPU module. eth1 – the second – has 2.5 Gbit and is routed through the MOXTET. If you have a MOX D module, eth1 is your SFP port and can handle up to 2.5 Gbit.
[button text="Preise und Verfügbarkeit der Geräte der MOX-Serie" link="https://www.varia-store.com/de/suche/search-mox/filter-hersteller-108/filter-preis-0-285.html" style="info" size="normal" target="_blank" display="inline" icon="no"]
MOX A (Basic) is a universal network microcomputer with gigabit connectivity and a USB 3.0 port. It is the basic building block of every MOX set.
---
MOX B (extension)
With the MOX B you can add additional hardware to your configuration. It has an mPCIe slot for a compatible WLAN card, a hard disk controller or an LTE modem. The MOX B also has a SIM card slot.
---
MOX C (Ethernet)
That MOX C Module contains a manageable switch with four ports for Gigabit Ethernet.
---
MOX D (SFP)
That MOX D -Module has an SFP connection for an optical connection (with speeds of up to 2.5 Gbit / s) or compatible adapters.
MOX E (Super Ethernet)
That MOX E Module is an ideal choice when you need more Ethernet ports to connect devices to your network. It is twice as wide as the other modules and contains a manageable switch with eight ports for Gigabit Ethernet. In contrast to the MOX C module, the SGMII bus is not terminated and up to three MOX E modules can be connected in series.
MOX F (USB)
That MOX F -Module expands your configuration with additional USB 3.0 ports with transmission speeds of up to 5 Gbit / s, via which you can connect external drives, TV tuners and other devices.
MOX G (Super Extension)
With the MOX G Module with an mPCIe slot, you can connect a compatible WLAN card to achieve significantly higher speeds than with SDIO (we recommend the mPCIe Wi-Fi add-on). It also has a SIM card slot for users considering an mPCIe LTE modem. The MOX G has the same functions as the MOX B. In addition, it has a pass-through PCIe bus, which means that you can use it together with the MOX B or MOX F.
---
Turris MOX uses 1.8 V! Connecting to common devices with higher voltage logic will most likely destroy the device.