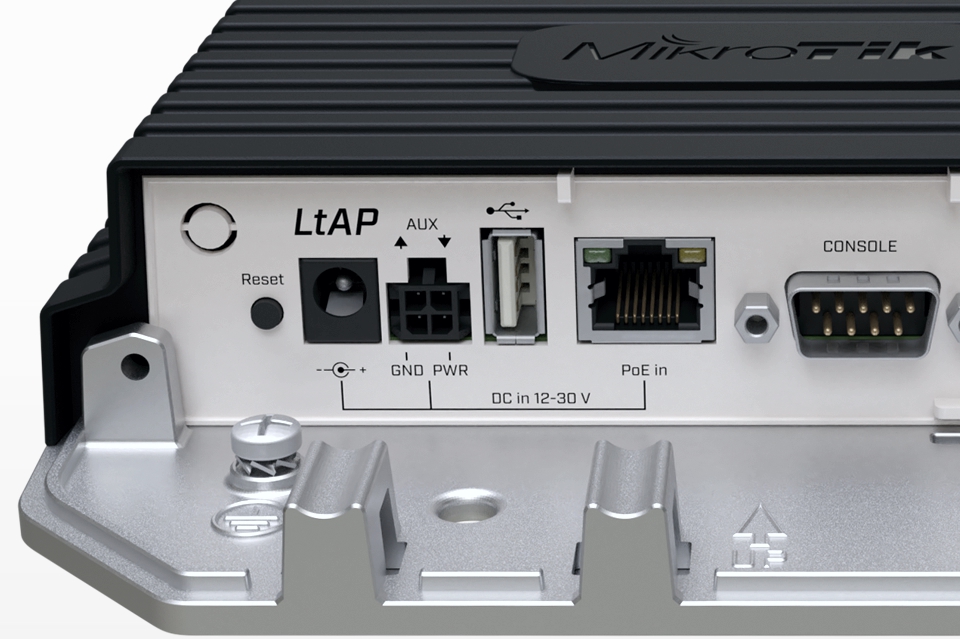 23. July 2019
MikroTik
The new LtAP is a compact 4G (LTE) -capable, weatherproof WLAN access point – perfect for busy urban environments or off-the-grid outdoor networks.
It has an integrated cellular modem that supports 4G (LTE) connectivity – no additional devices are required, it is ready to use right out of the box.
Its powerful 2.4 GHz 802.11b / g / n WiFi functionality provides secure access to the LTE network from your phone or any other wireless device with a download speed of up to 150 Mbps. You can also use a Gigabit Ethernet LAN port for your wired devices. There are several power options – DC, PoE-in, and automotive.
The robust and extremely resistant housing with a special wall mounting kit is suitable for almost any challenge: from public transport, food trucks or logistics to harsh winter and stormy desert environments.
The LtAP can work at temperatures from -40 ° C to + 70 ° C. It is the perfect solution for tracking vehicles in real time.
MikroTik has provided a simple tracking use case in the RouterOS documentation to get you started. The LtAP even has 3 mini SIM slots for easy roaming management.
Saves time and money worldwide!
The device has an additional MiniPCIe slot that offers many expansion options. For example, you can install a second LTE modem for redundancy or a 5 GHz interface to use two 2.4 GHz / 5 GHz AP + LTE at the same time. Another miniPCIe slot is already equipped with the LTE modem.
The LtAP has a serial RS232 interface through which you can access the console for debugging, as well as full-size USB for other devices.
The new LtAP is more than an access point – it is exactly what you need, wherever you need it.
[zitat]
The LtAP can work at temperatures from -40 ° C to + 70 ° C. It is the perfect solution for tracking vehicles in real time.
[/zitat]
There are three models available: