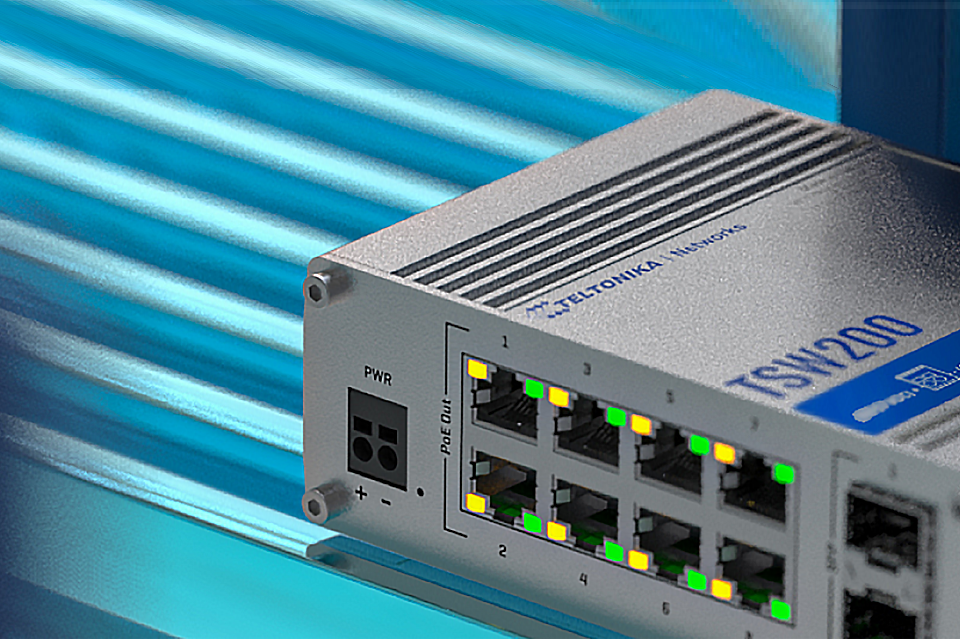 31. March 2022
Teltonika
We like to introduce a new Teltonika Ethernet switch.
A switch can be a crucial element in a network that significantly impacts efficiency and quality.
Switches can vary by size, number and type of ports, setup complexity, level of control, power options, and other criteria.
Teltonika entered the switch market just a couple of years back with TSW100, followed by TSW110 last year.
With these pioneer devices in their portfolio, they focused on creating tiny devices that easily fit into space-limited environments and offer Gigabit Ethernet with PoE+ standard.
These products quickly found their place in various networking solutions due to their plug-and-play setup simplicity, compact size, durability, and their overall economy.
With the newest switch in the family, they wanted to go a couple of steps further and create a device with an advanced combination of features.
Which enables even more specific application scenarios.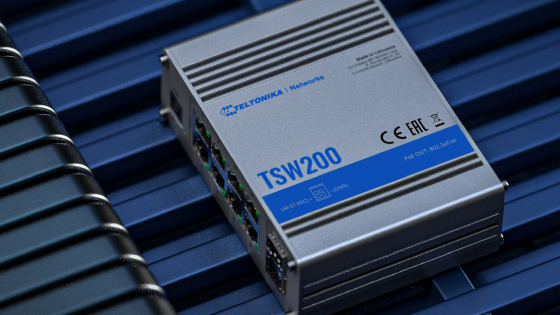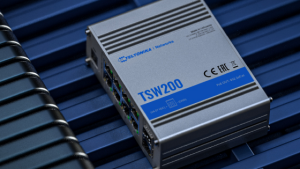 TSW200 is the first switch in the Teltonika Networks portfolio with eight Gigabit Ethernet ports that support IEEE802.3af and IEE802.3at Power-over-Ethernet standards.
Now you may connect more devices and power them up simultaneously with a power budget of 240W.
This unmanaged switch does not require configuration, so the time and resources needed to install the solution are entirely minimal.
The plug-and-play design of this switch will enable connecting multiple IP cameras, point of sale (POS) systems, Access Points, or any other PoE+ compatible devices.
So they have access to the internet within minutes and reduce any excessive cabling.
The newest addition to our product range includes another essential feature – SFP support.
Ethernet is a perfect choice to establish communication where the devices are relatively close to one another – up to 100m, to be precise.
Anything beyond this requires fiber optic transmission to maintain the same speed and reduce latency.
Besides, SFP is considered a more secure and reliable option to Ethernet.
PoE+ Gigabit Ethernet Switch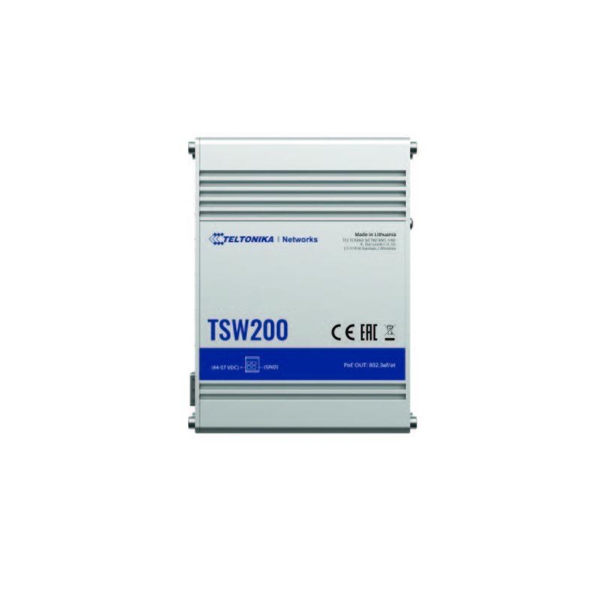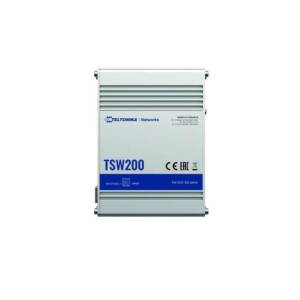 kkkk
Power connector: 2-pin, push-in, terminal block
Input voltage range: 7-57 V DC
Input voltage range for PoE: 44-57 V DC
Power consumption: Idle: < 2 W, max.: < 9 W (no PoE device connected)
PoE standard: 802.3af/at (up to 30W per port)
On top of that, it is deemed future-proof due to the possibility of switching to higher bandwidth should the need arise.
Like the rest of their industrial device portfolio, this product features a rugged and durable design, with resistance to unfavorable conditions and harsh temperature ranges.
It comes with wall and DIN rail mounting options for easy installation.
So, this switch will fit in virtually any enterprise, retail or industrial scenario with high-bandwidth far apart applications that require a reliable data connection and power supply.
So, we covered the most prominent technical characteristics of TSW200.
However, we found that the best way to illustrate the benefits of our products (except for trying them out yourself) is by delivering easy-to-understand real-life use cases.
The TSW200 enables large-scale video surveillance systems with remote management capabilities.
In another usage scenario it is able to help with long-distance parking ticket machine connectivity challenges.