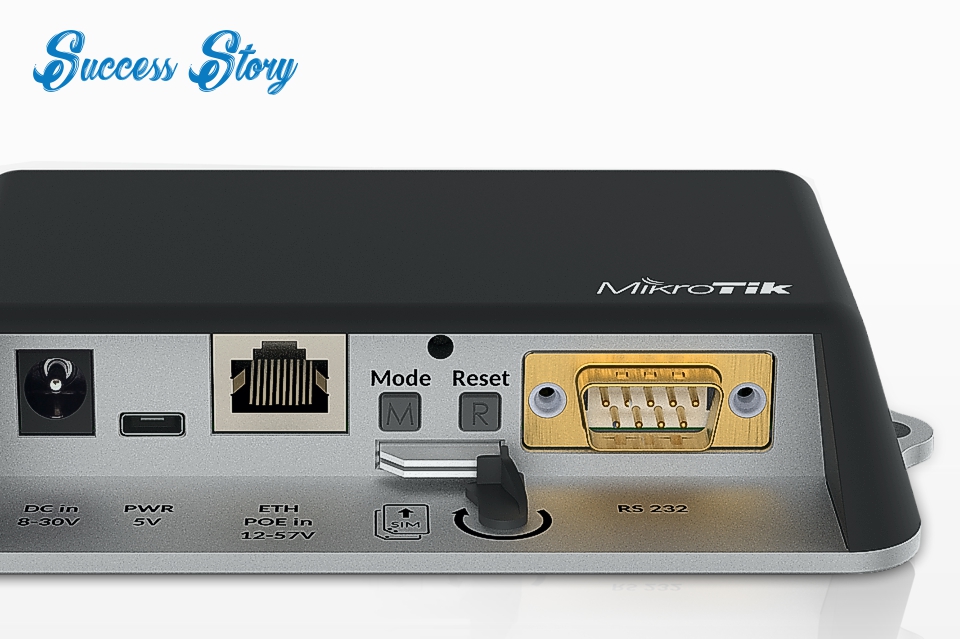 14. July 2021
MikroTik / Success Story
Techno Trade from Uzbekistan had the contract to upgrade the ATM network of a large banking company. The main task was to connect 50 ATMs to the headquarters. All ATMs should receive internet over 3G / LTE and use an encrypted channel to form a single network and we used the MikroTik LtAP mini LTE kit.
This is how the order was implemented.
The project was carried out with a VPN tunnel. For this setup we used 50 MikroTik LtAP mini LTE kits as VPN clients. We used a CCR1036-8G-2S + as the VPN server. The diagram shows how we used L2TP with IPsec for the VPN network.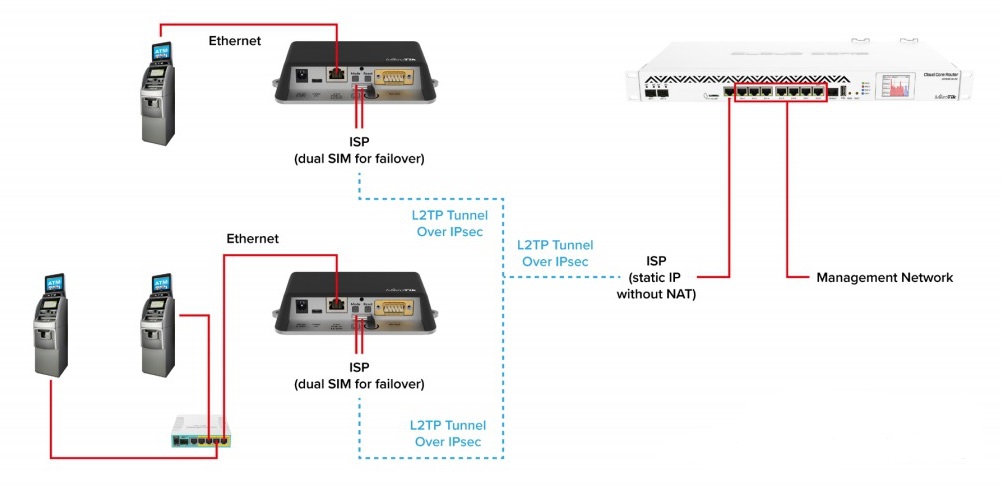 An L2TP VPN server with IPsec was configured on the main router and VPN clients with two SIM cards (from different mobile network operators) were installed on MikroTik LtAP mini LTE inside the ATMs. If the SIM1 suddenly loses the connection, the SIM2 of the other operator will restore it.
Always satisfying to see a well-thought-out project with failovers. Better safe than sorry!
It's a perfect solution for real-time tracking. MikroTik has a simple tracking use case in the RouterOS documentation provided to get you started.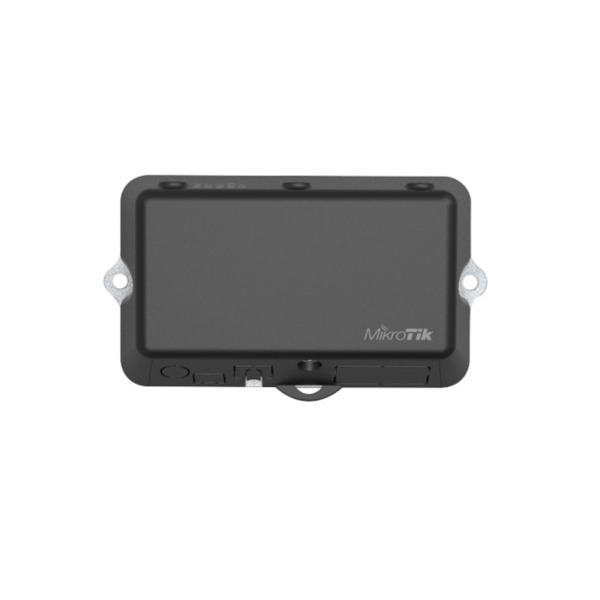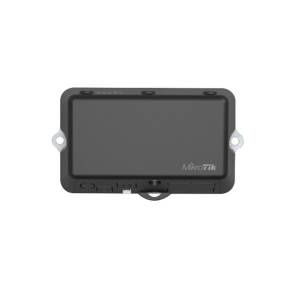 RB912R-2ND-LTM – LtAP mini with 650 MHz CPU, 64 MB RAM, 1x LAN:
The LtAP mini is a small, waterproof, wireless access point.
Connect to the integrated WLAN 802.11b / g / n of the LtAP mini and access the LTE network from your phone or other wireless device. The LtAP mini LTE also has a 10/100 Ethernet LAN connection for your wired devices. The RS232 serial port gives you access to the console for debugging.
The LtAP mini has a special housing with a wall mounting set, two SIM slots for switching between mobile network providers and integrated GPS support, making it ideal for use in vehicles such as cars, buses or trains. The external GPS antenna is available separately (not included, product code GPSANT).
The LTE card is connected to two internal antennas with U.FL connectors. If you want, you can pull out the plugs and add your own external LTE antenna for better coverage. The device has several power supply options: 9-30 V PoE-In via Ethernet port, DC socket and micro USB.
Use the built-in GPS module to track your vehicle's location in real time. MikroTik even provided a simple example of a tracking application in the RouterOS documentation to help you develop your platform.
Technical specifications
Product code: RB912R-2nD-LTm
CPU: QCA9531 650 MHz
RAM size: 64 MB
Memory: 16MB
10/100 Ethernet ports: 1
Wireless: Integrated 2.4 GHz 802.11b / g / n, dual-chain
Wireless chip model: QCA9531
WLAN regulations: The specific frequency range may be limited by country regulations
Antenna opening angle: 360 °
Wireless antenna gain: 1.5 dBi
GPS: Built-in MT3337V, with uUFL-HF connection and active antenna support
PoE in: yes
SIM slot: 2 mini SIM slots
LTE modem: none (slot for miniPCI-e LTE card available)
LTE category: –
3G category: –
2G category: –
LTE antenna gain: 3.5 dBi (with uFL connector)
Serial interface: RS232 (together with the GPS port)
Supported input voltage:
PoE in: 10 – 57 V (passive PoE and 802.3af / at with unshielded cable)
DC socket: 8 – 30 V.
MicroUSB: 5V
Dimensions: 139 x 77 x 28.5 mm
Operating temperature: -40 ° C to + 70 ° C tested
License level: 4
Operating system: RouterOS
Max. Power consumption: 4 W