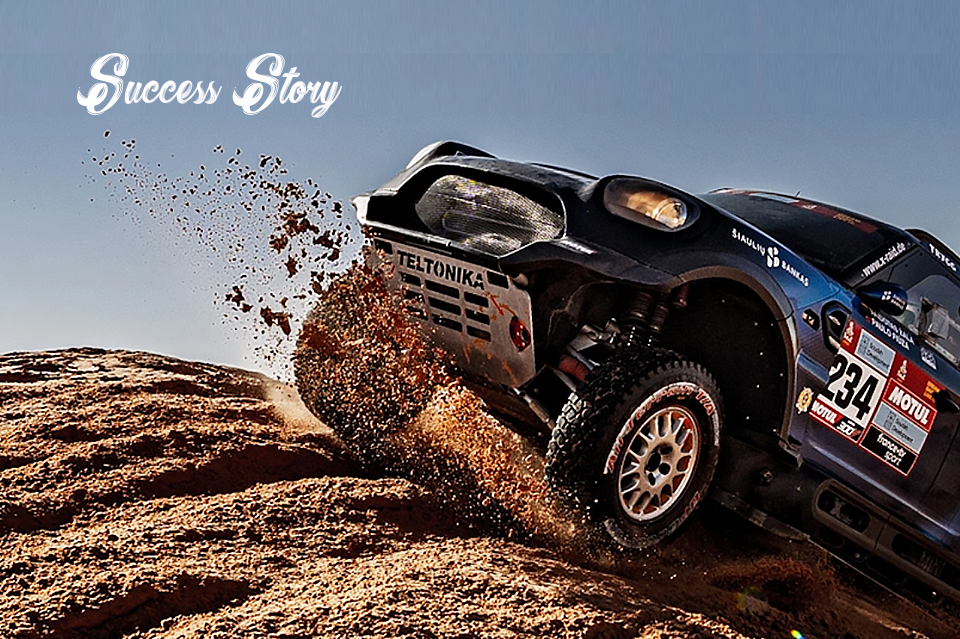 10. March 2022
Success Story / Teltonika
Dakar rally is a legendary racing event in the desert. Since the late 70s, it has become a phenomenon known by people across all continents, ages, and occupations.
Lithuanians also love to watch Dakar, especially lately, since more and more Lithuanian competitors started participating in different race categories.
This year also marks a significant milestone for Teltonika, with Vaidotas Žala and Paulo Fiuzo entering Dakar, representing the Teltonika Racing team for the first time in history.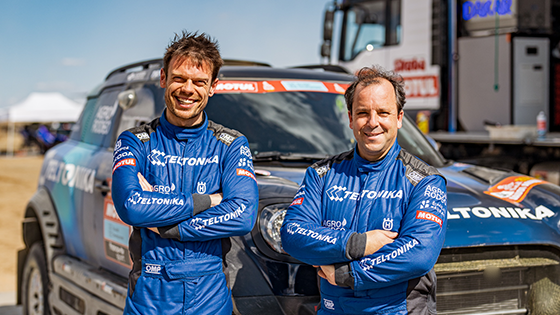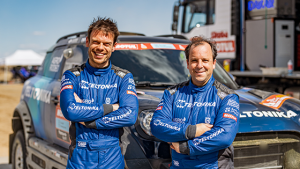 Teltonika Networks industrial connectivity devices have been successfully implemented and tested in harsh conditions across various races worldwide, including hot and dusty Sub-Saharan desert or rainy European climate.
Although they could not install any of their products in the MINI X-Raid race car driven by Vaidotas and Paulo in Dakar, they sure did upgrade their support truck by setting up a boundless, desert-proof connectivity solution.
Taking place in the desert of Saudi Arabia, this year's rally began with callous conditions.
The already unwelcoming sandy deserts have been flooded by heavy rain and turned into pools of dirt in some areas, adding yet another challenge for the race crews facing extreme conditions.
Besides dust, rocks, radical temperature changes in Dakar, they also have to battle mud and humidity.
Such unpredicted weather undoubtedly results in noticeably more accidents and failures for race cars. Besides, they are more exhausting for the racers too.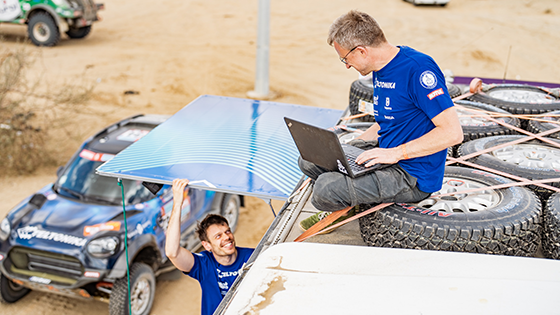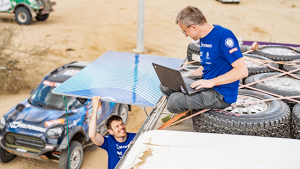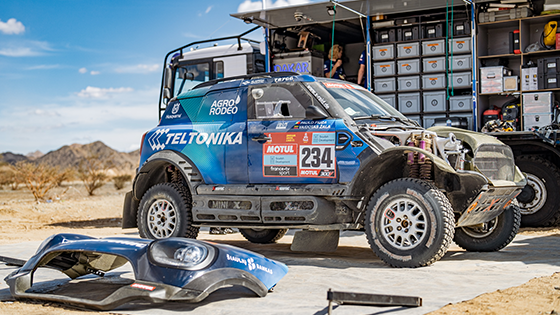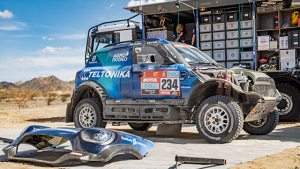 Having a well-connected support truck can be game-changing in situations like these. Once the race car returns to bivouac, the team can proceed with check-ups and repair works, while the drivers can rest but remain in contact with the crew whenever needed.
The cameras installed on the support truck allow them to keep an eye on what's happening on the ground and stay up to date with the progress entirely remotely.
Another major benefit of using industrial networking products is their high-level security.
The team members can connect their work and personal equipment to the network and use Wi-Fi worry-free because of multiple professional security features and easy-to-use Hotspot functionality.
Teltonika Networks connectivity solution
Teltonika Networks puts great emphasis on creating products to connect IoT equipment into a reliable, secure, and easy-to-use ecosystem. Keeping in mind that the rally crew does not involve any IT professionals, the simple structure and usability were critical factors.
Using two dual-modem RUTX12 cellular routers ensured network reliability and increased throughput by load-balancing across four different network providers.
On the other hand, implementing a PoE+ switch enabled a quick and straightforward setup of multiple devices in a plug-n-play manner.
Upon arrival, the team put up the solution in no time and could enjoy stable internet connectivity straight after inserting four different SIM cards of local operators.