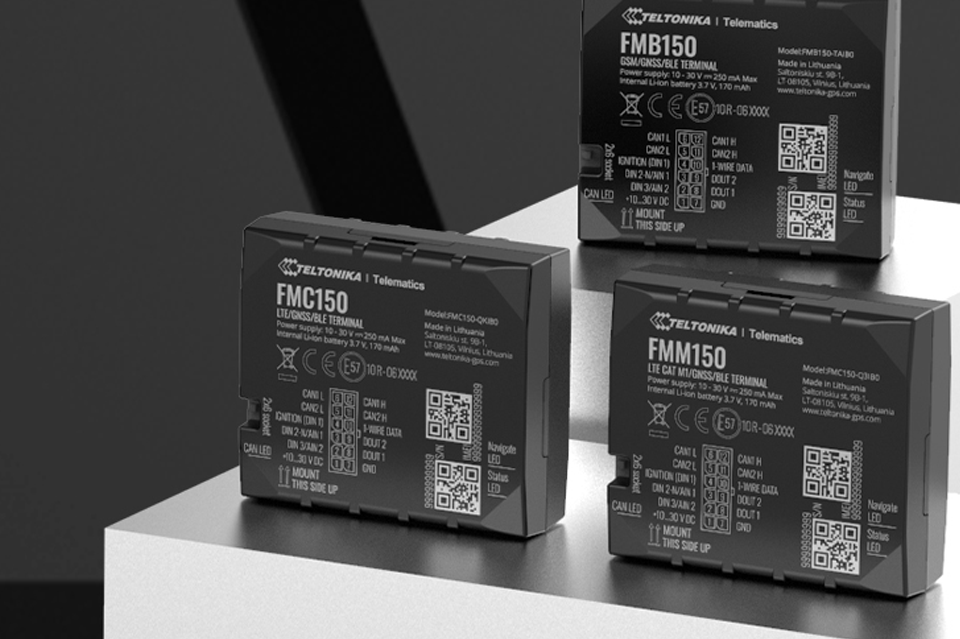 8. December 2022
Teltonika
All-in-one solution in fleet management! Yes, you read that right. Let us introduce you the FMx150 trio – Teltonikas newest members of the CAN device category!
No need for an additional CAN bus adapter, reading more parameters, electric vehicle support, easier installation and configuration – FMB150, FMC150, and FMM150 come with all this and even more!
CAN BE USED ALMOST ANYWHERE IN THE WORLD
The phrase 'without compromises' fits the FMx150 family. The new devices have 3 different connectivity options – that's 2G, 4G LTE Cat 1, and Cat M1 – making them ready to be used basically anywhere in the world. Future-proof global network coverage with a fallback to 2G network allows operations in a wide range of markets and taking part in projects that involve light, electric, heavy and special vehicles. It is for the first time an all-in-one solution with an integrated CAN adapter and 4G LTE connectivity is offered in FMC150 and FMM150. This lets fleet managers be in control of upcoming connectivity changes and reduce costs.
BROAD 1,500+ SUPPORTED VEHICLES LIST AND ADDITIONAL CAN PARAMETERS
The vehicle trackers with CAN adapters inside allow reading data from various types of transport, including light vehicles, trucks, buses, and 40+ electric cars. These new devices support such essential CAN parameters as fuel level, mileage, engine speed (RPM), engine temperature, door status and more.
FMX devices benefits
EASIER TO INSTAL AND CONFIGURE
Teltonika FMx150 trackers come with new wiring schemes which are designed to indicate the most convenient way to reach CAN lines for each supported vehicle. The possibility of connecting to CAN lines easier saves extra time and installation costs. Also, device configuration for our customers is made more intuitive and user-friendly by simply filtering the needed vehicle brands and models on FOTA WEB.
A VARIETY OF USAGE SCENARIOS
FMx150 series trackers can be effectively applied in numerous use cases, such as vehicle maintenance, green driving, fleet safety, etc. Timely maintenance and service help to keep vehicles in a good condition, minimising chances of unexpected breakdowns. This is particularly important in delivery services, vehicle rental and leasing, public transport and other sectors. FMx150 devices help to ensure effective fuel consumption and reduce expenses by collecting data on acceleration, braking, speeding, harsh cornering and other driving behaviour. Also, driver safety is increased by preventing vehicles from entering no-go zones and high-risk areas.