The Ubiquiti Flex-HD is part of a scalable enterprise Wi-Fi management.
UniFi® is a revolutionary Wi-Fi system that combines enterprise performance, unlimited scalability, and a central management controller. The UniFi AP Flex HD access point has a small, sleek design and compact form factor. It can easily be deployed indoors or outdoors. With flexible mounting options, the Ubiquiti Flex-HD can be deployed on tabletops, walls, poles, and ceilings (requires optional ceiling mount accessory).




Easily accessible through the UniFi app (iOS or Android™) and any standard web browser, UniFi Controller is a powerful software engine. It is ideal for high-density client deployments requiring low latency and high uptime performance.
Use the UniFi Controller software to quickly configure and administer an enterprise Wi-Fi network – no special training required. RF map and performance features, real-time status, automatic UAP device detection, and advanced security options are all seamlessly integrated.
Flexible mounting options: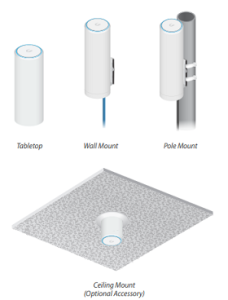 The Ubiquiti Network Controller can provision UniFi devices, map out networks, and quickly manage system traffic. Important network details are logically organized for a simplified, yet powerful, interface.
From a single pane of glass, view network topology and configuration, real-time statistics, and debugging metrics. Monitor your network's vitals and make on-the-fly adjustments as needed.
The UniFi Network Controller provides configurable reporting and analytics to manage large user populations and expedite troubleshooting. Advanced search and sorting capabilities make network management more efficient.
Upload a map or use Google Maps to represent the areas where your UniFi devices are located. Use the predictive map feature to get a preview of coverage, and to help you avoid dead spots.