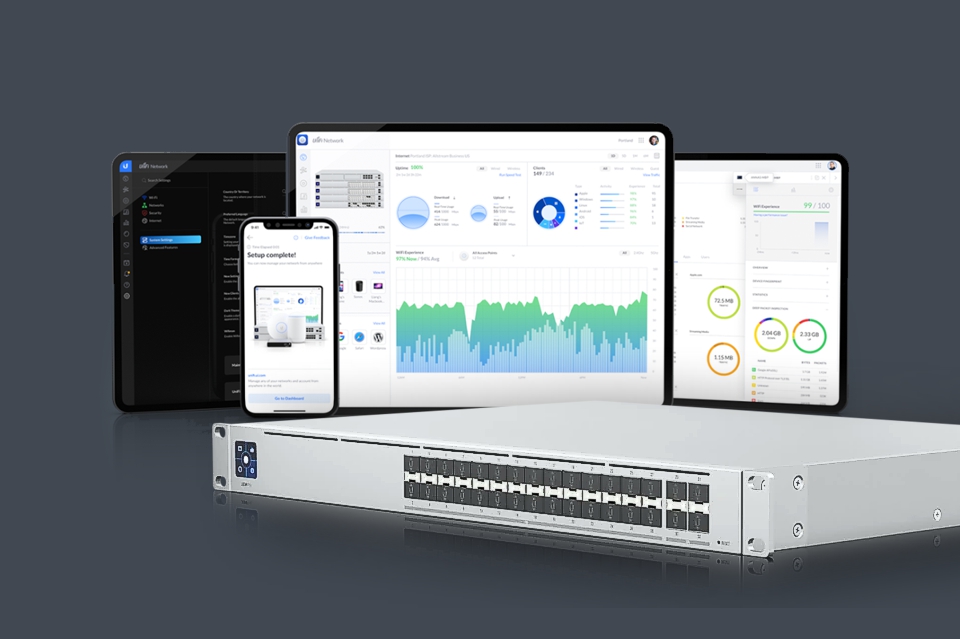 2. June 2021
Ubiquiti
Create and expand your network with the UniFi® Switch, which is part of the Ubiquiti® UniFi Enterprise system. The UniFi Switch, model USW-PRO aggregation , is a 10G fiber layer 3 congurable switch. It offers 28x 10G SFP + fiber connections to your devices and 4x 25G SFP28 fiber uplink options to your corporate network.
The Ubiquiti USW-PRO-Aggregation features a 1.3″ touch LCM. The LCM provides current switch states and the necessary information you need for quick diagnosis.
Managed and configured by the UniFi Mobile app support, the UniFi switch offers an extensive suite of advanced layer-3 switching protocols and features, including operation mode (switching, mirroring, or aggregate) per port, Inter-VLAN routing, static routing, and DHCP server.
The UniFi mobile app allows admins to configure and monitor virtually all of the switch features in a graphical user interface from anywhere.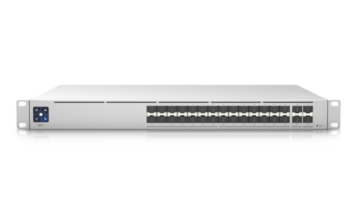 RPS DC input is a new feature on USW-Aggregation-Pro. This DC input provides redundant power when the switch is connected to USP-RPS (UniFi Smart Power RPS) via RPS DC input. When the switch's internal PSU is off, the switch function can keep working by backup power from the USP-RPS input port.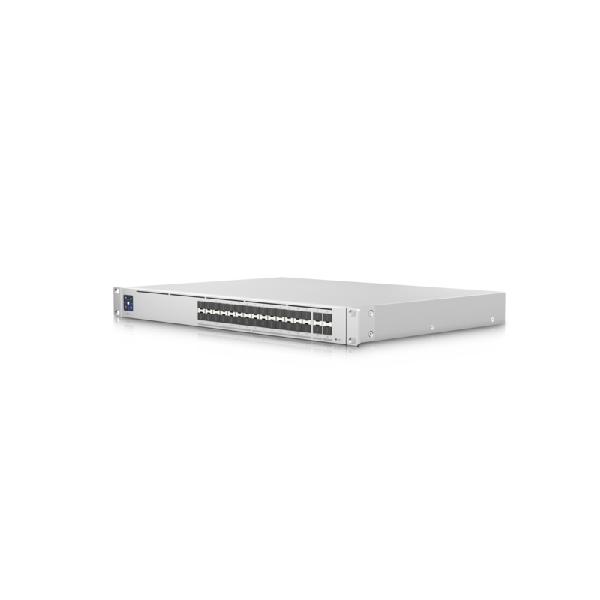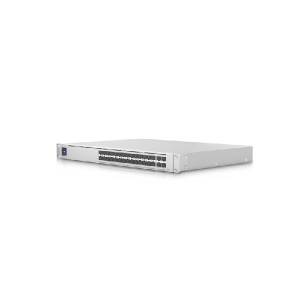 UniFi Switch, model USW-PRO-Aggregation:
Total non-blocking throughput: 380 Gbps
Switching capacity: 760 Gbps
Forwarding rate: 565.44 Mpps
Max. Power consumption: 100 W
Power method: (1) universal AC input, 100-240 VAC, 2A max., 50/60 Hz; (1) USP-RPS DC input, 11.5 V DC, 8.7 A
Power supply: AC / DC, internal, 100 W.
Network interface: (28) 1/10 Gbit / s SFP + Ethernet; (4) 1/10/25 Gbit / s SFP28 Ethernet *
LCM display: (1) 1.3 "touchscreen; start animation: start process in progress; firmware update symbol: firmware update; permanent white: factory settings, waiting for acceptance; permanent blue: device is being accepted
LEDs: SFP28 / SFP +: White, link and activity
Management interface: Ethernet in-band
Modes: SMB Layer 3 10/25 G fiber optic switch
ESD / EMP protection: air: ± 16 kV, contact: ± 12 kV
Operating temperature: -5 ° C to 40 ° C
Operating humidity: 10 – 90% non-condensing
Approvals: CE, FCC, IC
* The four SFP28 ports do not support mixed speed in 25 Gbps mode. As soon as one of the SFP28 ports is configured in 25 Gbit / s mode, the others are also limited to 25 Gbit / s. The SFP28 ports only support mixed speeds when all ports are set to 1 Gbps or 10 Gbps.