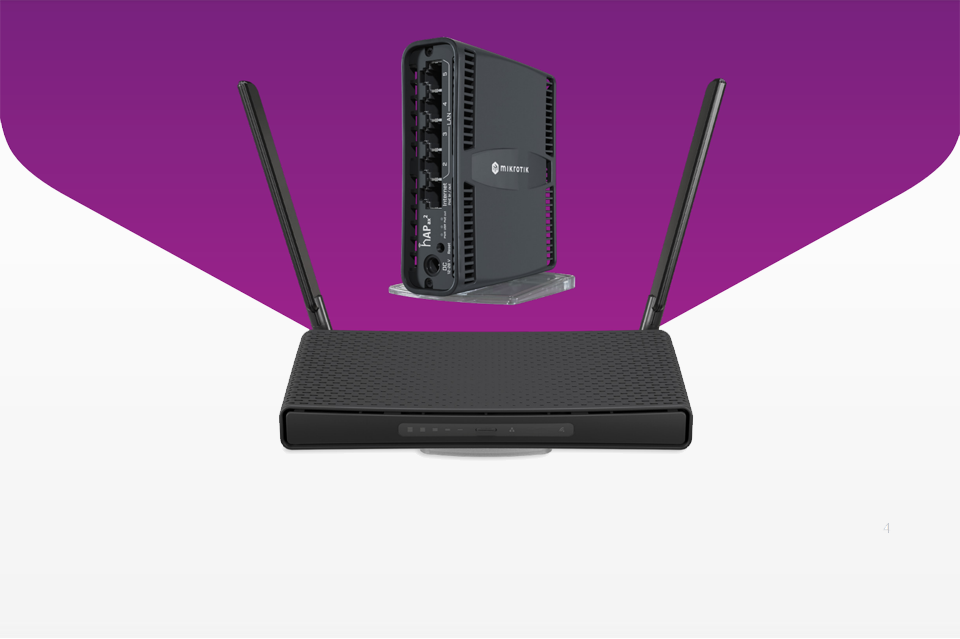 21. February 2023
MikroTik
Previously, the UNII frequency range required separate certification in certain regions while remaining completely unavailable in Europe.
However, with MikroTiks latest Wireless Gen6 802.11ax products, they've managed to secure all the necessary CE and FCC/IC certificates to offer the most comprehensive frequency range to date!
UNII 1-4 support means you will always be able to find and fine-tune the perfect wireless signal for optimal speed and range.
More products to follow.
hAP ax² and hAP ax³ now support the entire 5 GHz range*:
UNII-1 (5150-5250MHz)
UNII-2 (5250-5350 MHz, 5470-5725 MHz)
UNII-3 (5725-5850 MHz)
UNII-4 (5850-5895 MHz)
* Please note that:
1) you need RouterOS 7.8beta2 or newer for the extended UNII support
2) all the announced 802.11ax devices support UNII-3 everywhere
3) all announced 802.11ax devices support UNII-4 in Europe (up to 5875 MHz!)
4) In the USA, hAP ax² supports UNII-4 up to 5895 MHz. The other announced products can not use UNII-4 in the US due to the external antennas (see FCC regulations for more information).
hAP ax²
It's time to supercharge your home network with the Generation 6 wireless network and MikroTik's latest addition to the popular hAP series. hAP ax² has everything you might need in a primary home access point – and more! Forget endless reviews and comparisons – this is the perfect device for 99% of homes.
Wireless signal is now stronger than ever. Here are the two main ingredients of hAP ax's success: a state-of-the-art dual-band, dual-chain 4-4.5 dBi radio, and the 802.11ax standard with Wave2 support. Let's compare it to the previous generation: depending on your overall setup, that means up to 40% higher speed in the 5 GHz and up to 90% higher speed in the 2.4 GHz spectrum!
Some might ask – why do we even need higher wireless speeds? Well, countless use cases have been previously impossible or difficult to pull off. For example, working with large media files over the wireless network – without the need to download and upload everything. Do you really have the time to wait? Grab a hAP ax² and save more time for the essential things in life!
The modern quad-core CPU running at 864 MHz combined with a solid GB of RAM packs a hefty punch when it comes to heavy operations like complex firewall rules, IPsec hardware encryption, using more threads or experimenting with the most advanced RouterOS features. And with the addition of WPA3 advanced encryption support, you're safer than ever before.
hAP ax³
hAP ax³ is MikroTik's most powerful AX device with the best wireless network coverage so far. It features a modern quad-core ARM CPU running at 1.8 GHz and enough memory (1 GB RAM + 128 MB NAND) for most tasks. Complex firewall rules, IPsec hardware encryption, Wireguard, BGP, advanced routing, or multiple remote work VPN tunnels won't stop your family from comfortable browsing, streaming, gaming, and so on. There's enough processing power for everyone. And MikroTik added a speedy USB 3 port for all your storage purposes or an additional LTE modem.
Depending on your overall setup, MikroTik's AX product family offers up to 40% higher speed in the 5 GHz and up to 90% higher speed in the 2.4 GHz spectrum! Potent external antennas allow reaching gain up to 5.5 dBi, so you can forget about Wi-Fi Boosters and other tricks. Smooth and fast connectivity for your whole apartment – that's just how hAP ax³ works.