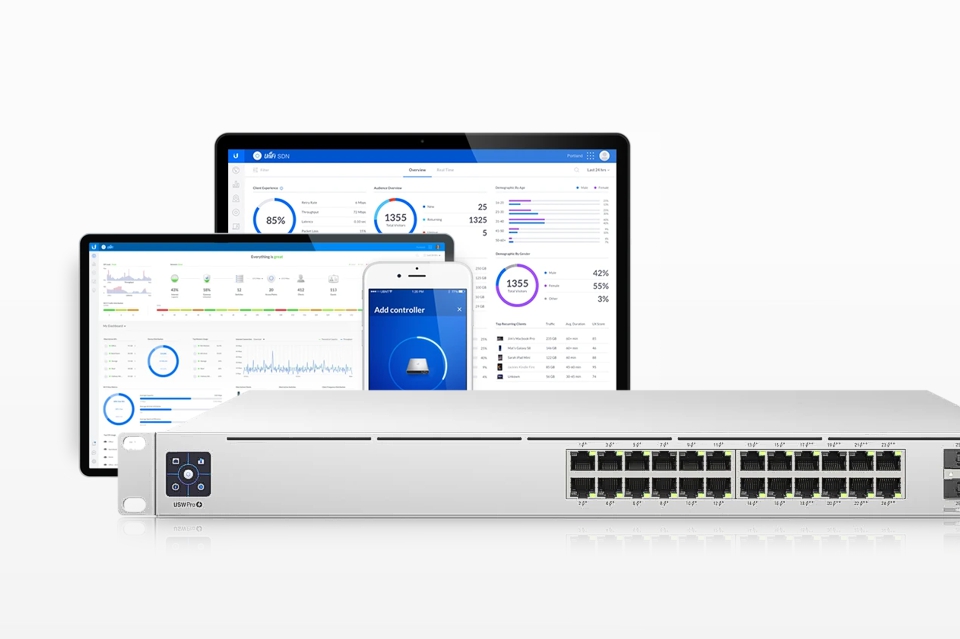 30. June 2020
Ubiquiti
USW-Pro-24 – the fully managed high-performance switch has 24x Gigabit RJ45 ports and 2x 10G SFP + ports. Powerful second generation UniFi switching!
Of the Ubiquiti UniFi Switch USW-Pro-24 is a fully managed Layer 3 switch with 24x Gigabit Ethernet ports. In addition, the two 10G SFP + uplinks offer link aggregation, which ensures higher capacity and better availability. In addition, the switch has a large number of Layer 2 functions. It also integrates Layer 3 functions such as inter-VLAN routing, static routing and DHCP server.
This Switch combines innovative, almost noiseless cooling with UniFi SmartPower RPS power redundancy. With the UniFi Network Application, administrators can configure and monitor virtually all switch functions from anywhere in an intuitive graphical user interface.
[button text="Preis und Verfügbarkeit" link="https://www.varia-store.com/de/produkt/96046-usw-pro-24-unifi-switch-pro-24-vollstaendig-verwalteter-layer-3-switch-mit-24-gigabit-ethernet-ports.html" style="info" size="normal" target="_blank" display="inline" icon="no"]
USW-PRO-24 features:
General properties:
LAN speed: 24x 10/100/1000 Mbps
SFP / SFP + / QSFP + speed: 2x 1 G / 10 Gbps
Jumbo frame: 9000 bytes
MAC address table: 16000
Physical Properties
Design: rackmount
Fan: Not available
Housing: metal
Operating temperature [° C]: -5 to 40
broad[mm] : 442
height[mm] : 44
Power supply
Power supply: present
Supply type: Mains voltage supply (230 V)
Power supply via plug / terminal: 230 V AC
Software properties
Settings: VLAN, QoS
Standard IP address: 192.168.1.20, dynamic via DHCP