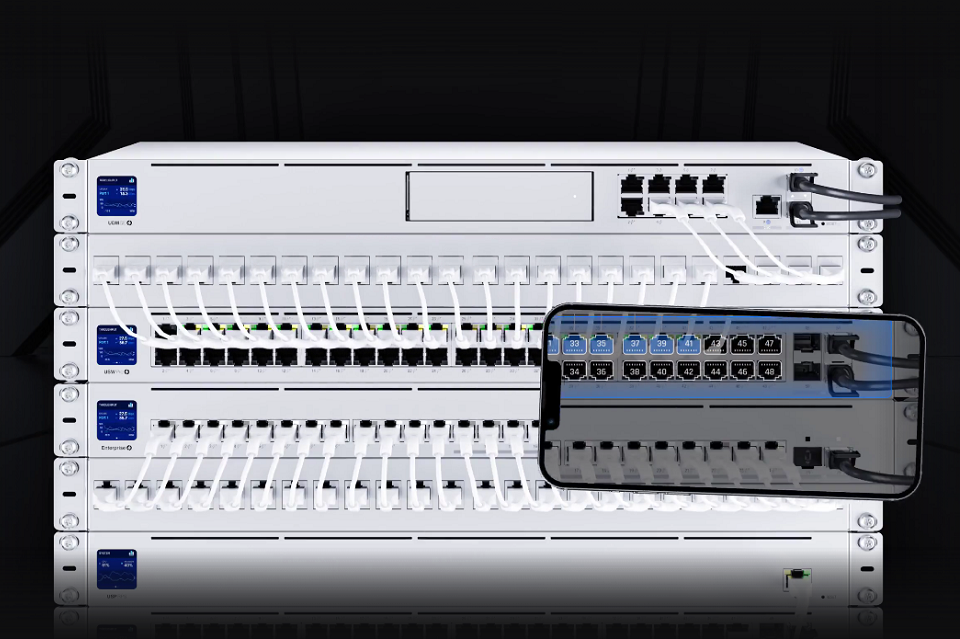 1. December 2022
Ubiquiti
Ubiquiti, founded by former Apple engineer Robert Pera in 2005, develops high-performance networking product platforms. Ubiquiti-engineered technology innovations provide superior performance, clever mechanical design, and ease of use.
They evolve wireless and wired technology platforms to deliver highly advanced and easily deployable communications solutions to a global customer base.
Ubiquiti Inc. currently focuses on 3 main technologies: high-capacity distributed Internet access, unified information technology, and next-gen consumer electronics for home and personal use.
The majority of the company's resources consist of entrepreneurial and de-centralized R&D teams. Ubiquiti does not employ a traditional direct sales force, but instead drives brand awareness largely through the company's user community where customers can interface directly with R&D, marketing, and support.
With over 70 million devices shipped in over 200 countries and territories in the world, Ubiquiti aims to connect everyone to everything, everywhere.
Ubiquiti has a variety of products for security and connectivity. An overview you can find in this article.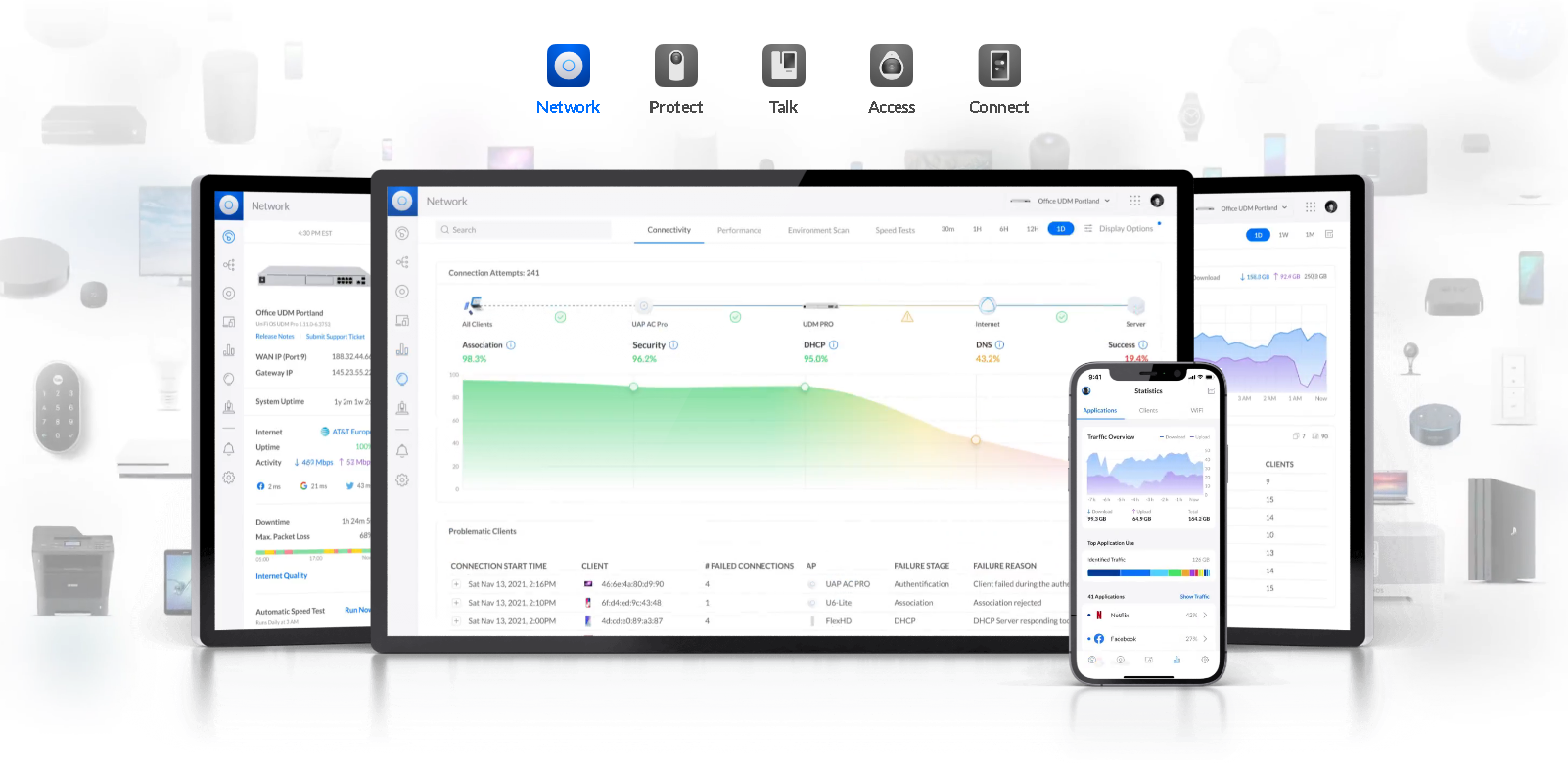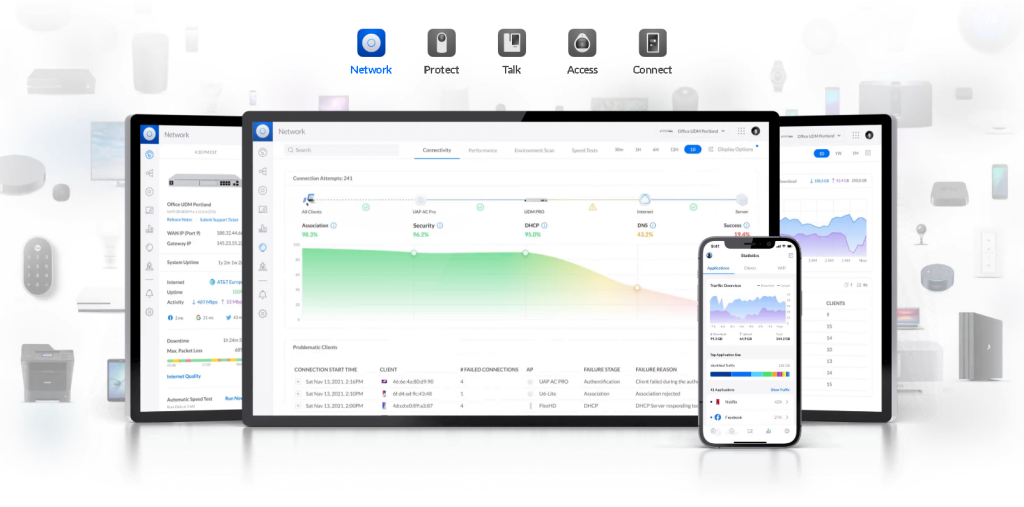 Multi-site ready: Seamless unified network management across regions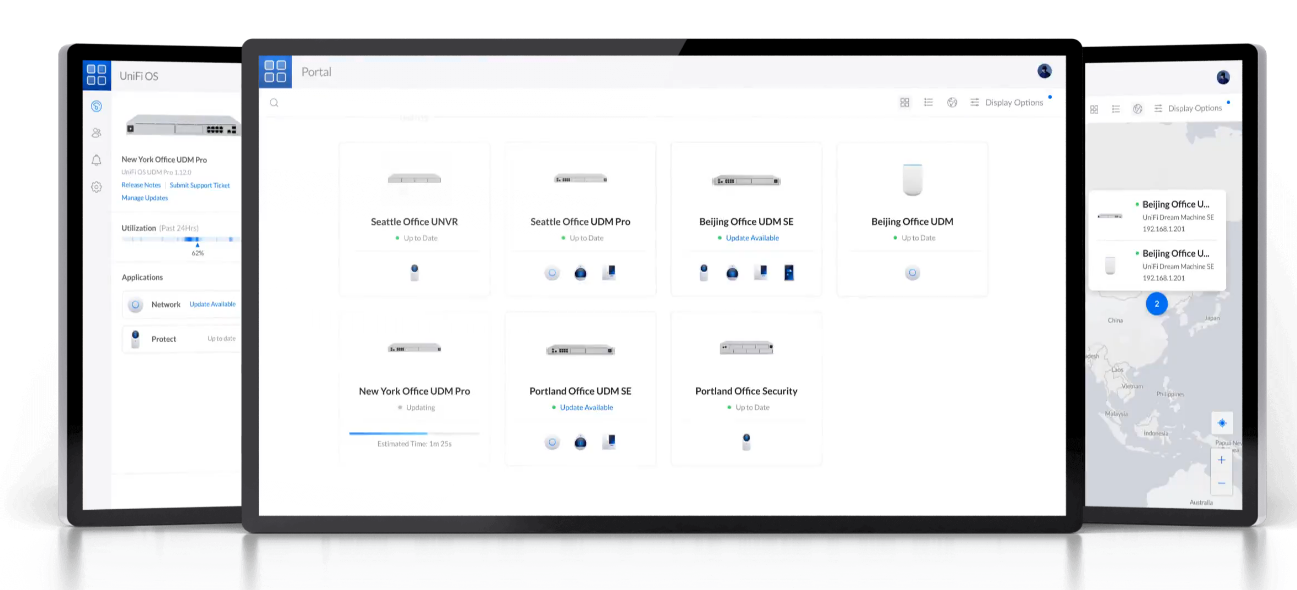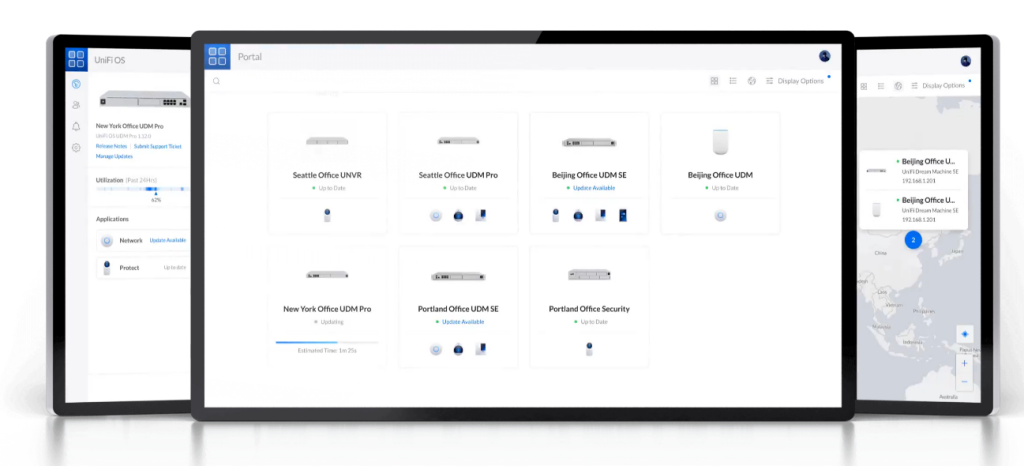 UniFi OS Hardware Platforms
UniFi OS is the operating system that hosts all UniFi applications and allows you to centrally manage your network from anywhere in the world.
UniFi OS designed for multi-application use: Seamless integration within a single management interface.


UniFi Identity
UniFi Identity (UID) provides individuals an intuitive and secure interface to access their organization's entire information technology while radically simplifying IT management for admins.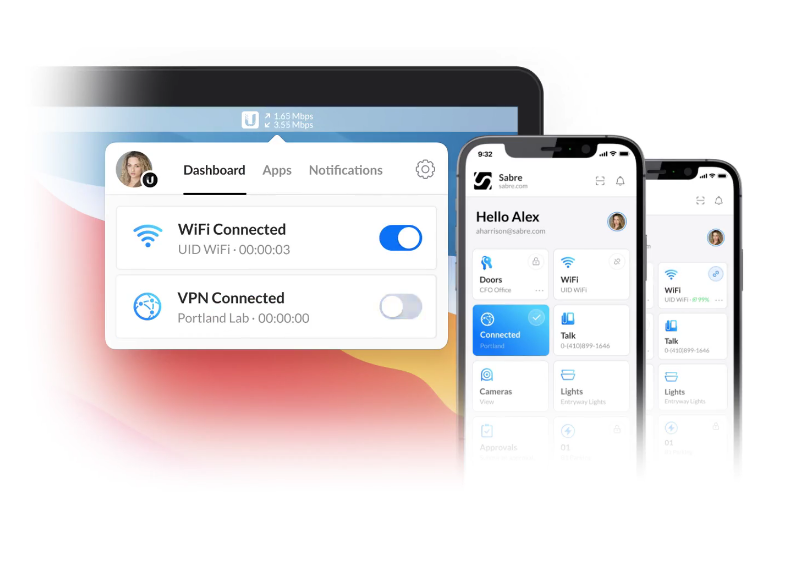 Wi-Fi Perfected – through Access Points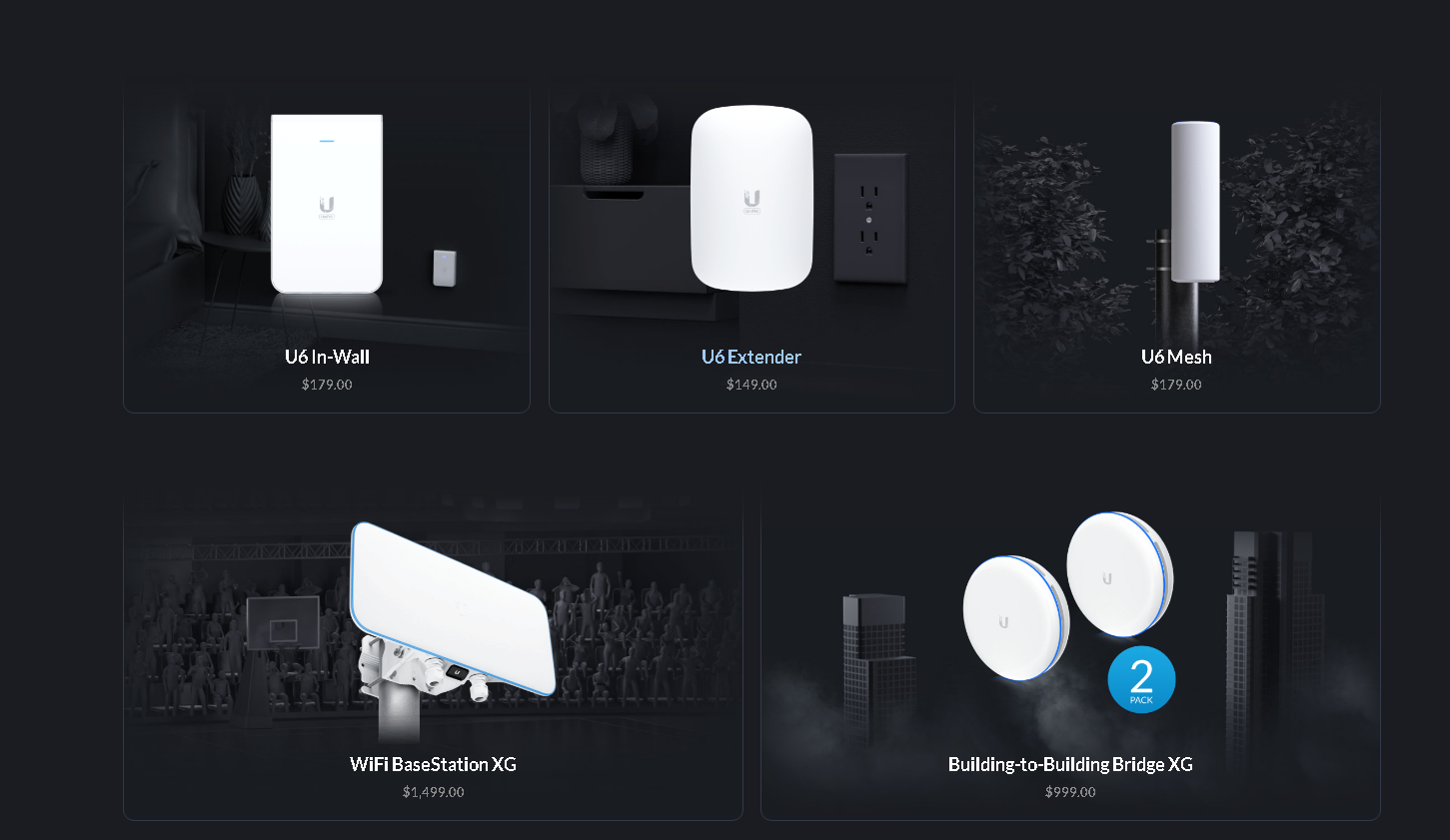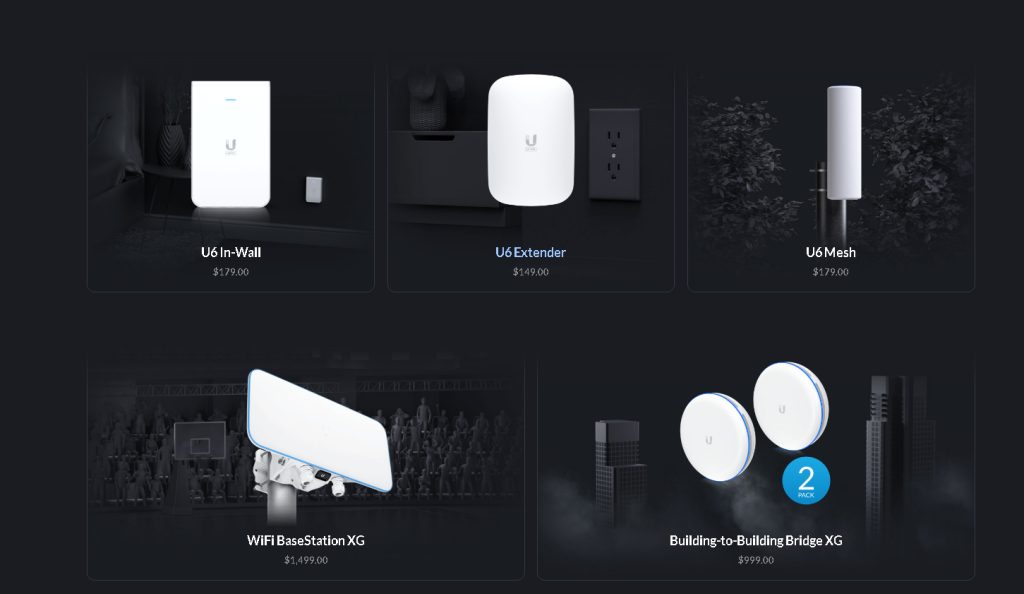 Switching Evolved
What advanced switching features do UniFi Switches offer?
Their advanced feature set includes port aggregation (LAG), STP, jumbo frames, VLANs, QoS, advanced logging features, and much more.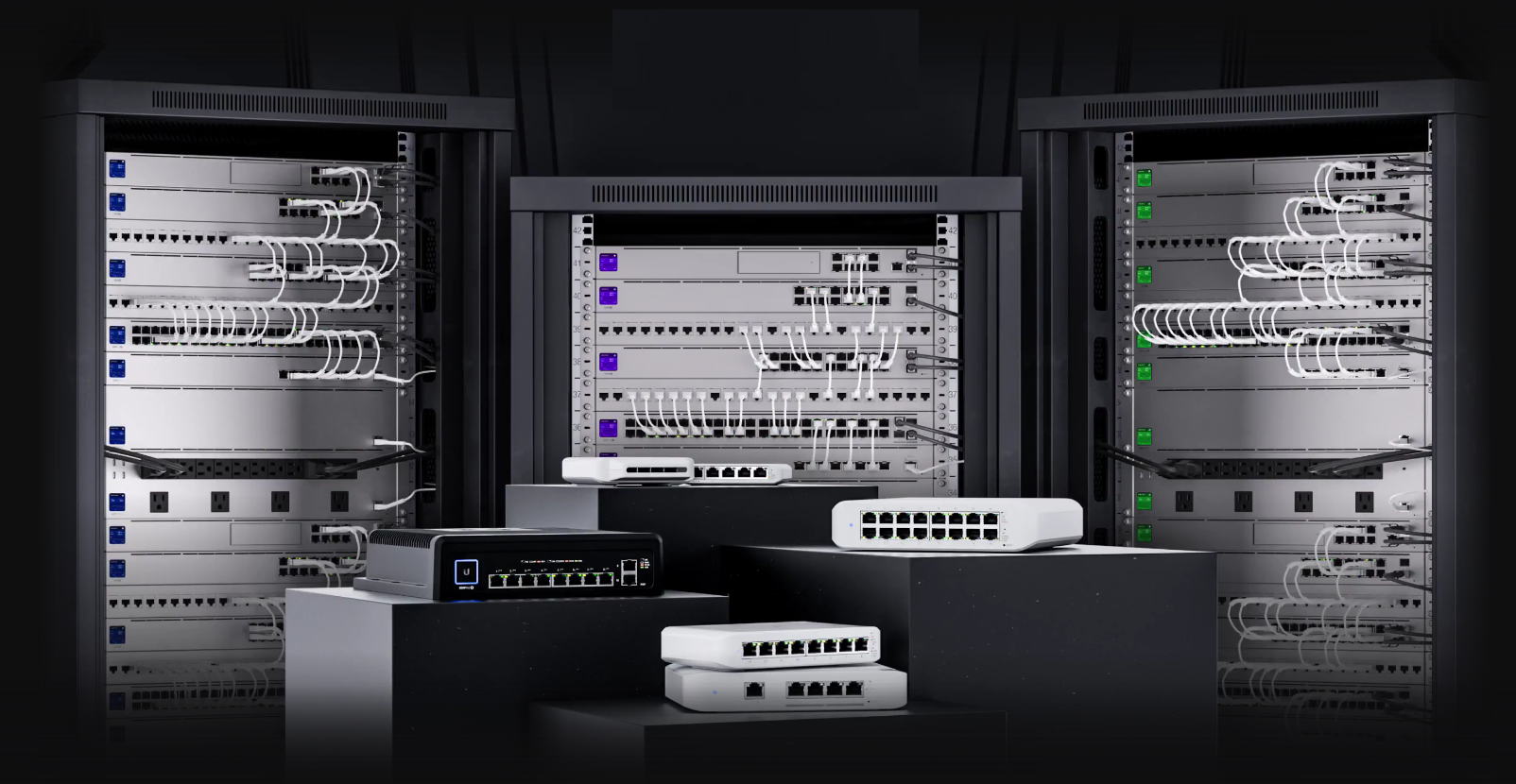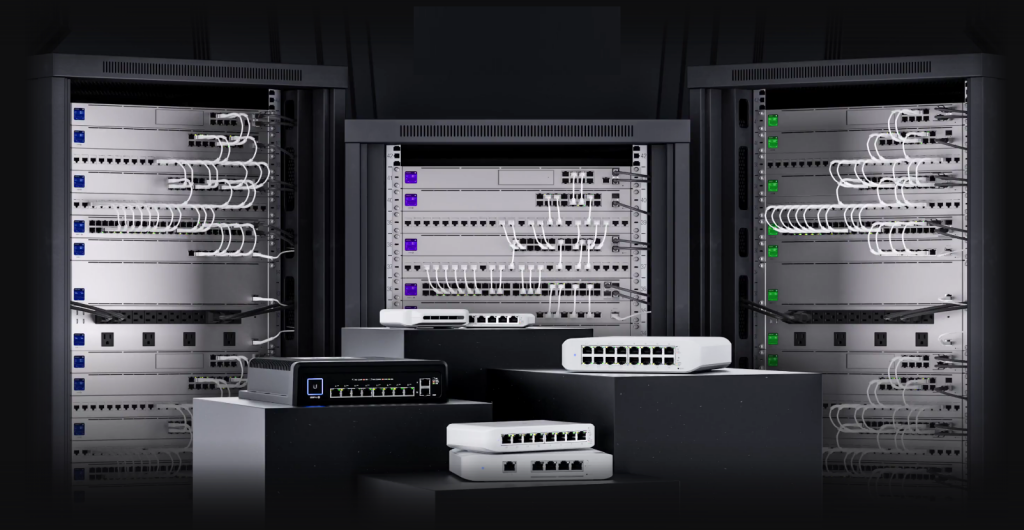 Camera Security
Simply Scalable Security.
UniFi Protect is a security management application that runs on a UniFi OS Console. With it, you can configure your Protect devices, watch live camera streams and recordings, download footage, create recording schedules, customize detection-specific notifications, and much more!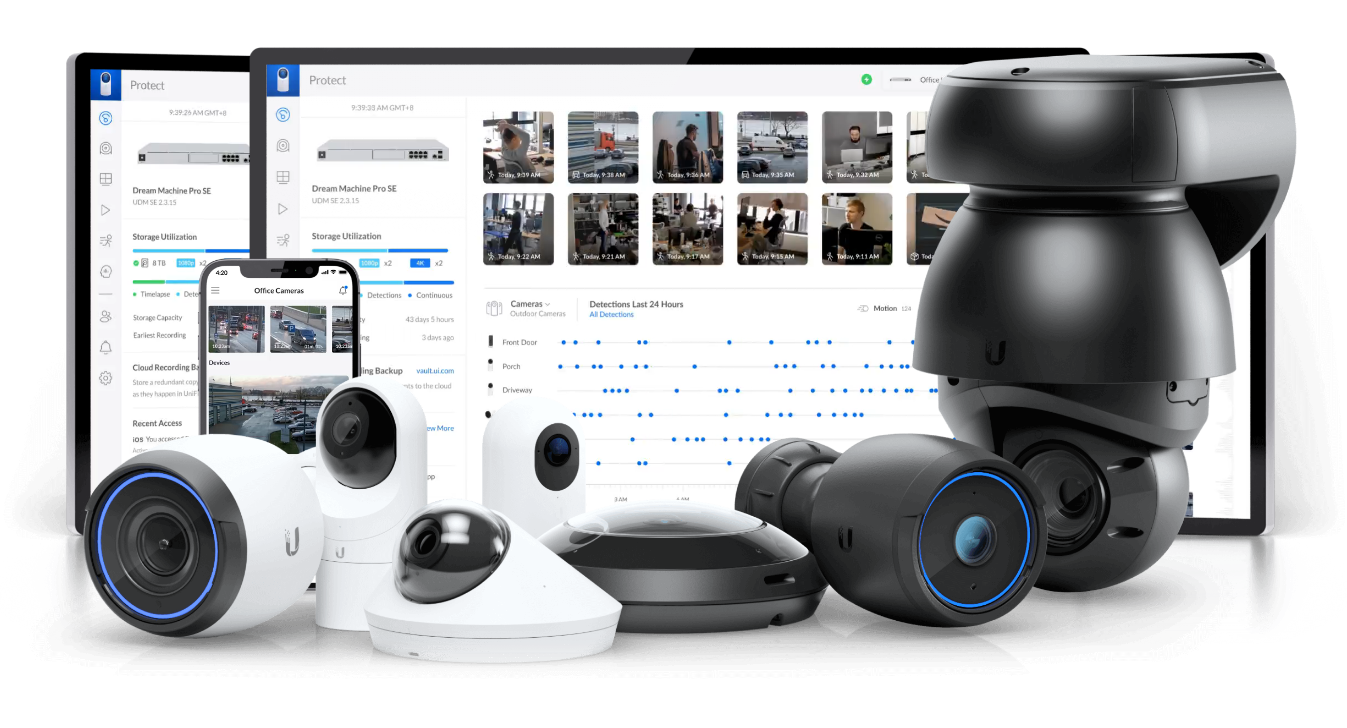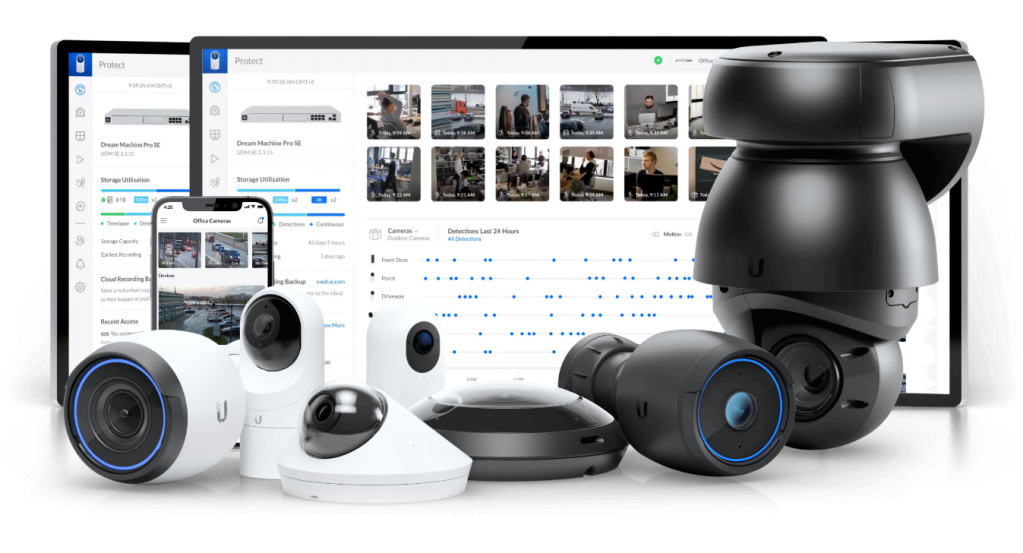 Phone System
Business Telephony Simplified.
UniFi Talk is a novel approach to telephony for small and medium-sized businesses. It features a plug-and-play phone system with VoIP subscription service, powerful call routing, and admin features to ensure you never miss another call. Our thoughtfully designed, touchscreen phones offer breakthrough user experiences and bring smartphone-level usability to desk phones.
A complete UniFi Talk system consists of the UniFi Talk application running on a UniFi OS Host, one or more UniFi Talk devices, and UniFi Talk subscription service and phone numbers (optional).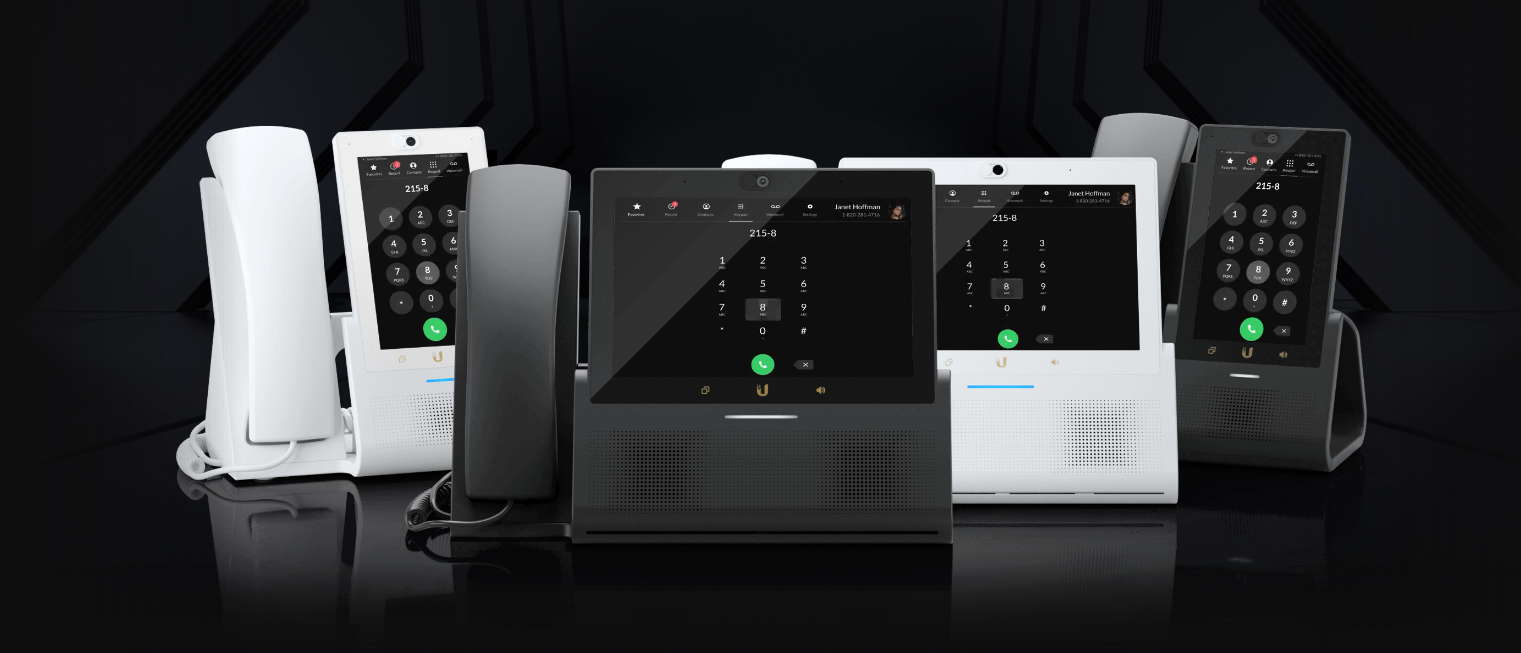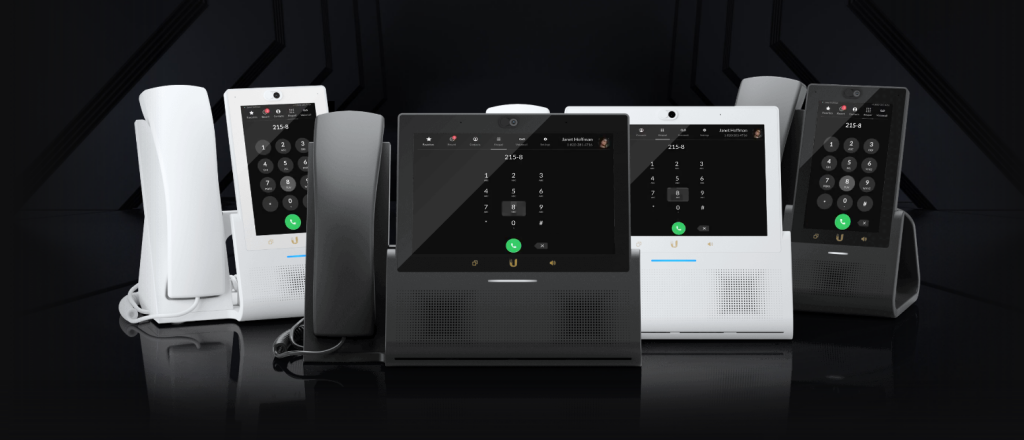 Door Access
Optimize your building security

Seamless network integration

Easily integrate your Access devices into a new or existing UniFi system.

Note: The Access Reader Pro (UA Pro) must be installed either indoors or under a roof eave outdoors.

Enhance your existing door security with Access devices

UniFi Access works with most electric bolts, magnetic locks, and electric strikes.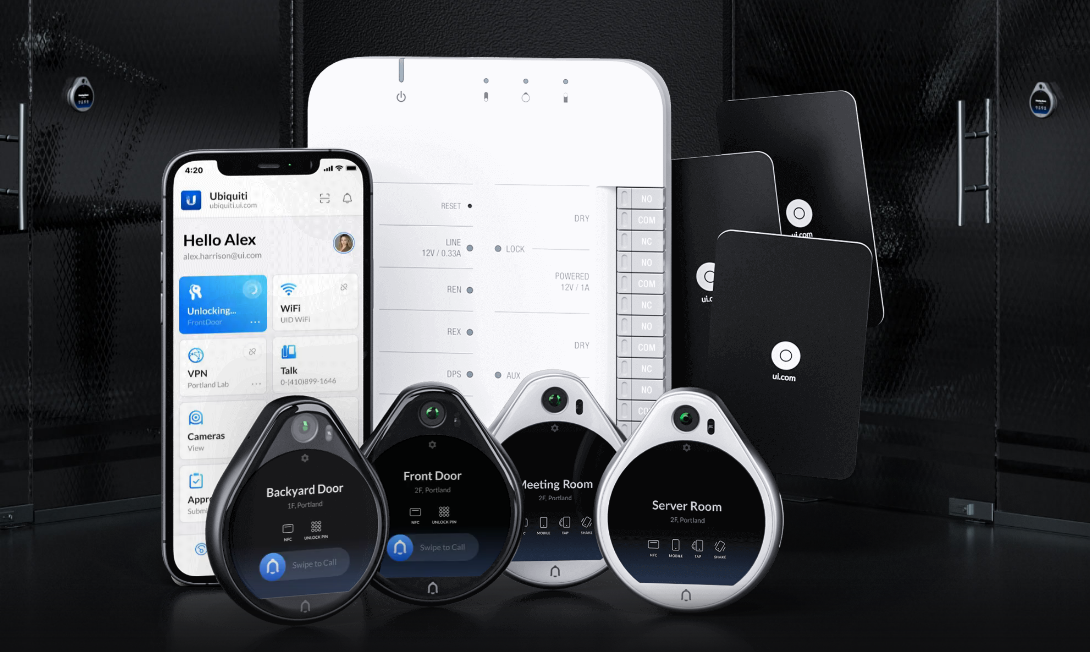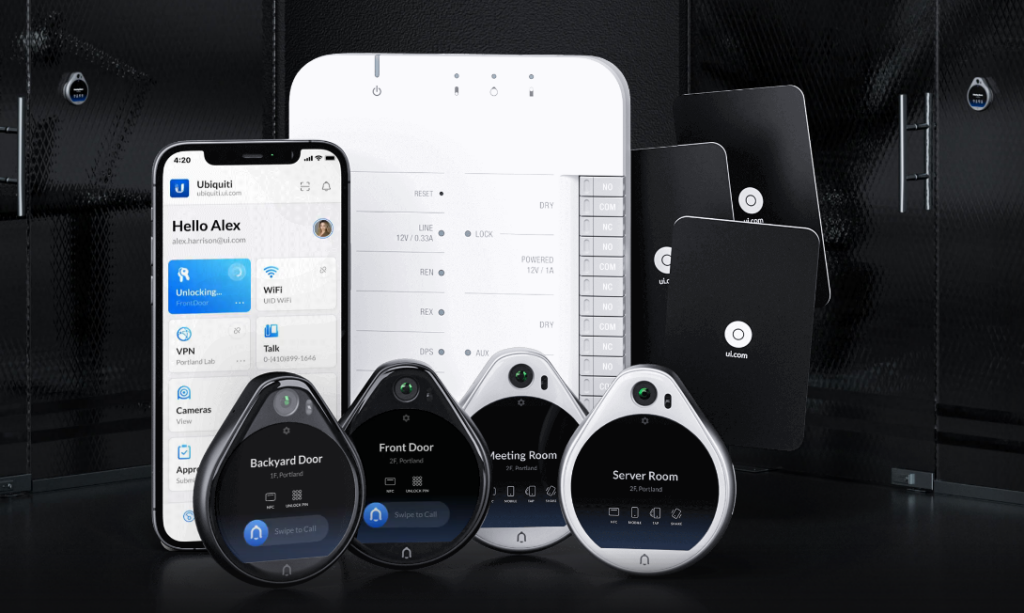 Accessoires
Designed for UniFi: Simplify installations, boost performance.
RackMount Chassis (Rack mount solutions for your needs)

Other UniFi Accessories (Customize your UniFi Experience for Your Environment Needs)

POE Injectors, Converters and Surge Protection (Provides Earth Grounding and Surge Protection, Helps Protect Against ESD Events, Powers Ubiquiti PoE Devices)