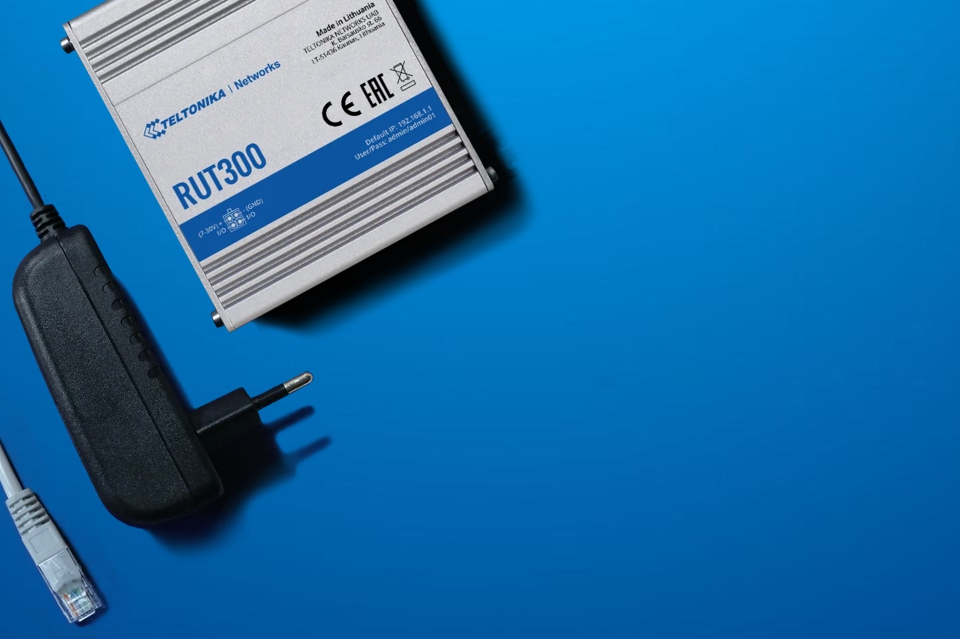 23. March 2021
Teltonika
Teltonika is constantly striving to meet the growing demands of customers and to expand the versatility of the solutions it develops. Now they are adding a new product to the Ethernet & Wireless product category – the RUT300 industrial Ethernet router.
Professional equipment
The RUT300 is a small but powerful Ethernet router that was developed for demanding industrial network tasks as well as more general network applications. Teltonika has many years of experience in developing professional network products. They therefore focus on properties that are required under various industrial conditions and scenarios. Because of this, they pay special attention to durability, reliability, security and ease of deployment.
A robust aluminum housing, high-quality components and state-of-the-art manufacturing technologies enable the RUT300 router to withstand harsh environments. It can therefore be operated at temperatures between -40 ° C and 75 ° C. By supporting wide supply voltages (7 to 30 V), this product is suitable for the versatile integration of electronic devices. In addition, the passive PoE capability can significantly reduce the complexity, cost, and time required to deploy the solution. Practical DIN rail mounting options and a small size make it possible to place the device in a server cabinet, for example, within a very short time.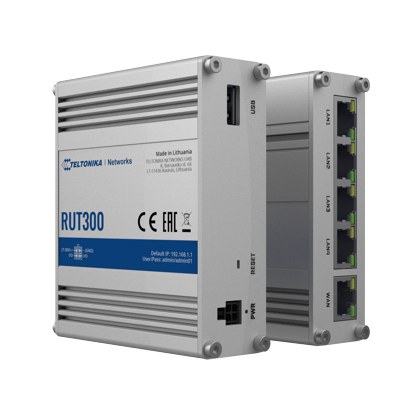 Connection options and software
The RUT300 is equipped with five Fast Ethernet connections, two configurable digital inputs / outputs and USB 2.0. So you can easily connect industrial machines, office equipment and other devices to the network. It is a good choice for solutions that do not require WiFi connectivity or high data speeds. The professional device also offers all the advantages of RutOS. RutOS is an operating system developed by Teltonika that is based on Linux OpenWRT.
Advanced security is a must for professional devices. The RUT300 comes with a preconfigured firewall for an instant secure connection to the Internet. Unlimited further firewall configurations are available via CLI, DMZ, NAT and NAT-T. It also offers a choice of 10 different top notch VPN protocols that you can use to establish a secure and private connection. The support of up to 4096 VLAN IDs enables simple and convenient management of the data traffic. In addition, the RutOS software supports several protocols required for industrial use, including Modbus and MQTT.
Remote Management System (RMS)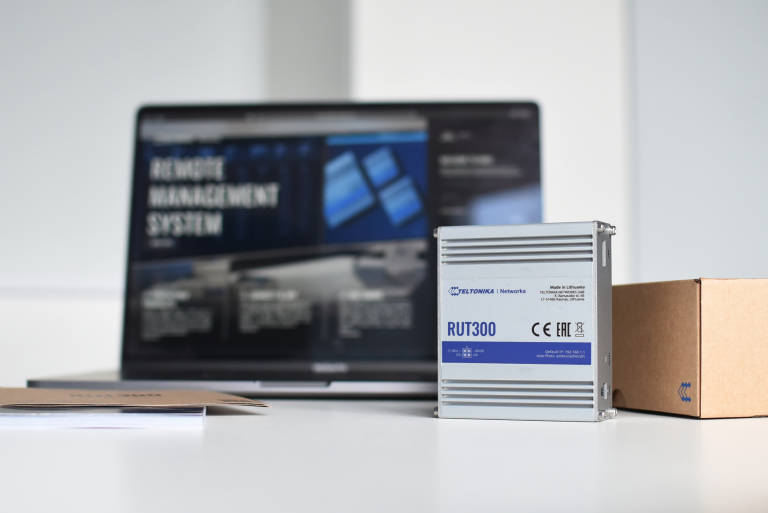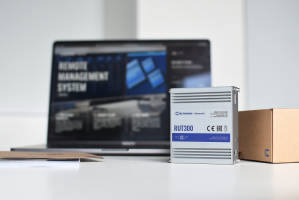 RUT300 offers the most economical way to connect your solution to Teltonika's cloud-based IoT platform – RMS. The continuously evolving system enables you to manage your router fleet remotely. You can also use RMS CONNECT to configure the entire infrastructure of your solution completely remotely. With REMOTE DESKTOP you can also access and control computers running Linux or Windows. If you want to transfer some of the functions of RMS to your own IoT platform, this is possible via the RMS API.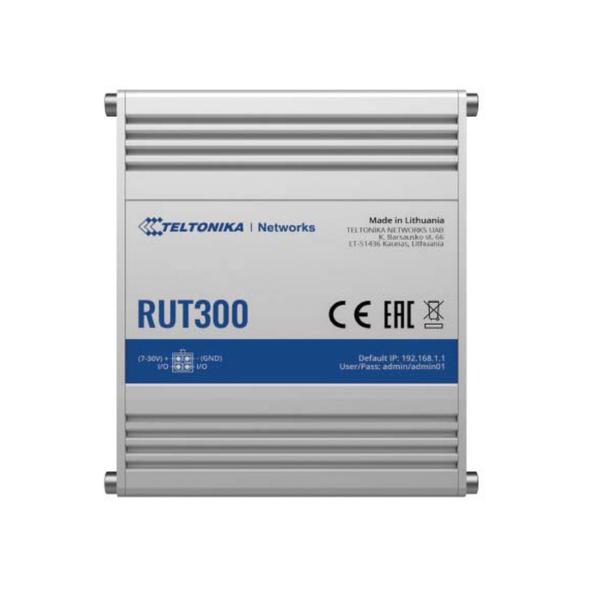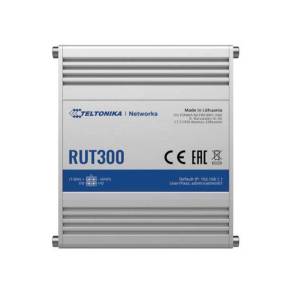 RUT300 – Industrial Ethernet Router:
CPU: QCA9531, MIPS 24 kc, 650 MHz
Memory: 64 MB, DDR2
Memory: 16 MB, SPI Flash
Power option: 4-pin power connector, 7-30V DC
Ethernet: 5x 10/100 Ethernet ports: 1x WAN, 4x LAN
Inputs / outputs: On 4-pin socket: 2x configurable digital inputs / outputs, open collector output
Other: 1x USB host
Status LEDs: 5x Ethernet, 1x power supply
Operating temperature: -40 ° C to 75 ° C
Housing: Aluminum housing with DIN rail mount option and earthing capability
Dimensions (W x H x D): 100 x 30 x 85 mm
Weight 229 g