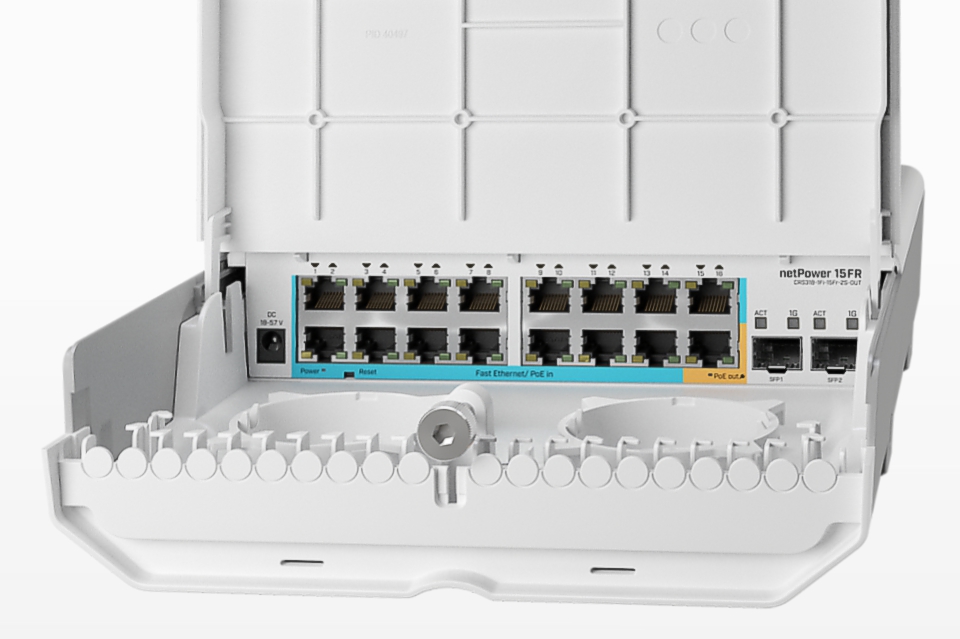 3. April 2020
MikroTik
18-port outdoor switch with 15 reverse PoE ports and SFP
Lower costs, not speed – choose GPEN instead of GPON!
With the Microtik netPower 15FR-Switch, you can forget about expensive GPON base stations and optical splitters. This switch is part of the GPEN concept from MikroTik. On the one hand, the concept improves the speed and versatility of fiber optic networks and at the same time uses the advantages of Ethernet. Every ISP can thus provide the Internet for individual apartments in a simple and inexpensive way.
You don't have to worry about the power supply in the attic or in the utility room – netPower 15FR has 15 PoE reverse ports. Depending on your setup, netPower can also obtain the required power from a single client! Another Ethernet connection has a PoE output. You can use it to supply power to an aggregated connection such as the wireless wire dish or a surveillance camera, for example.
[button text="Preis und Verfügbarkeit" link="https://www.varia-store.com/de/produkt/86023-netpower-15fr-18-port-outdoor-switch-mit-15-reverse-poe-ports-und-sfp.html" style="info" size="normal" target="_blank" display="inline" icon="no"]
netPower 15FR has a non-blocking throughput of 3.6 Gbit / s and a switching capacity of 7.2 Gbit / s. The forwarding rate is 5.4 Mpps.
There are two SFP ports for fiber optic connection. With the outdoor housing you can install this switch in all possible environments. For example, attics, elevator shafts or various masts with the help of hose clamps are conceivable.
Scope of delivery:
Hose clamp 1
Hose clamp 2
K-66 mounting kit
DC to terminal block adapter