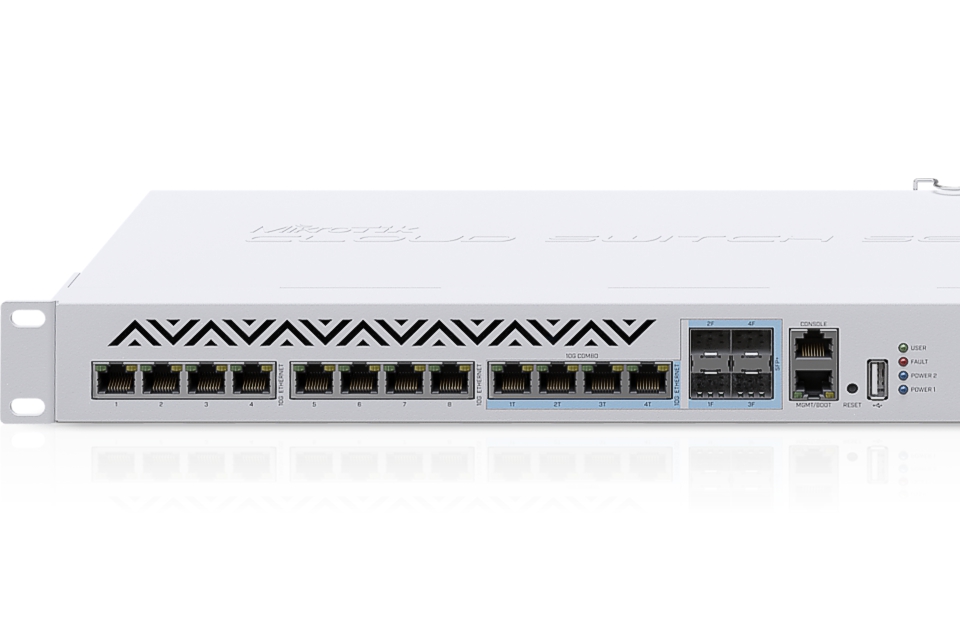 27. September 2019
MikroTik
CRS312-4C + 8XG-RM, the switch of the future:
MikroTik's first product with 10G RJ45 Ethernet ports and SFP +
Eliminate the bottleneck in your network setup! It's time to upgrade your 1 gigabit switch to something really powerful and enjoy real speed.
For this poses MikroTik now the CRS312-4C + 8XG-RM switch:
The first product with 10G RJ45 Ethernet ports.
In addition, the switch has 4x 10G combo ports. Use the ports for 10G RJ45 Ethernet or 10G SFP + if you need an additional fiber connection. You can also use the combo ports together with the 8 regular 10G RJ45 Ethernet ports at any time. They can also be selected by software so that you can use RouterOS scripts to decide which combo ports should be active.
[button text="Preise und Verfügbarkeit anzeigen" link="https://www.varia-store.com/de/produkt/36000-crs312-4c-8xg-rm-cloud-router-switch-mit-8x-10g-rj45-ethernet-ports-und-sfp.html" style="info" size="normal" target="_blank" display="inline" icon="no"]
---
This switch is a practical solution for users who work with large amounts of data and need a fast and reliable connection 24/7 (multimedia production, scientific research, game development, big data analysis). The MikroTik Switch CRS312-4C + 8XG-RM has a dual power supply for redundancy – no unexpected downtime when deadlines approach.
It also has a full-size USB port, a console port for configuration, and a 1 U rack housing that is suitable for all standard racks. This switch offers excellent non-blocking throughput of 120 Gbps, switching capacity of 240 Gbps and forwarding rate of 178 Mpps.
CRS312-4C + 8XG-RM – designed for professionals, great for everyone!
---
[button text="Preise und Verfügbarkeit anzeigen" link="https://www.varia-store.com/de/produkt/36000-crs312-4c-8xg-rm-cloud-router-switch-mit-8x-10g-rj45-ethernet-ports-und-sfp.html" style="info" size="normal" target="_blank" display="inline" icon="no"]