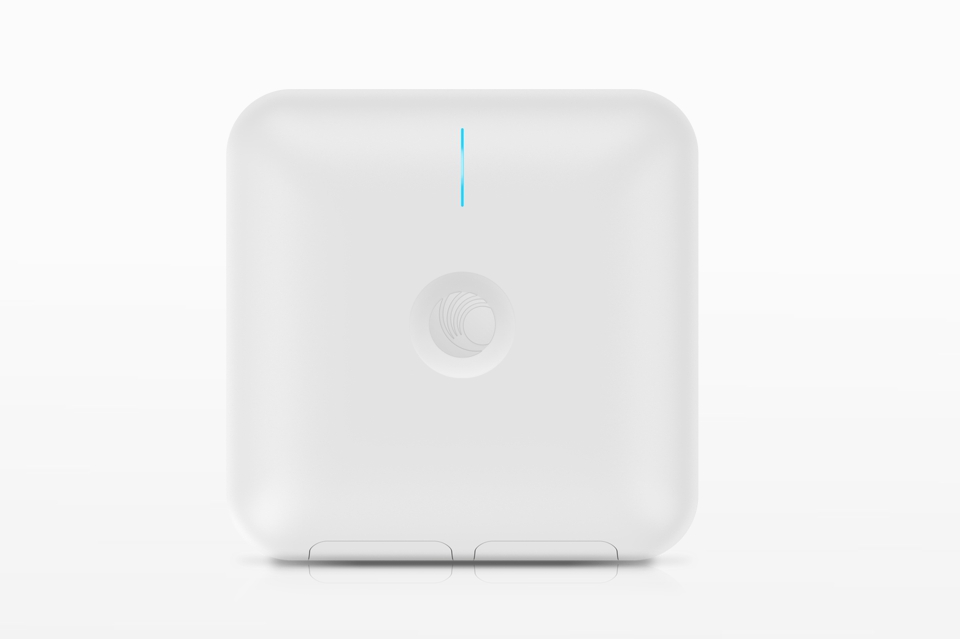 27. October 2020
VARIA
Stay up to date with the latest technology with the powerful 802.11ac Wave 2 e600 access point with gigabit speed, beam forming, multi-user MIMO (MU-MIMO) 802.11ac and a 4×4 antenna array.
From classrooms to shopping centers, cnPilot e600 Indoor is perfect for applications that require high capacity and range, or support high user density.
The e600 supports seamless roaming for up to 2,048 clients without the need for a controller on the network! Hotspot portal hosting on the AP itself offers controllerless simplicity.

High capacity and reliability
The e600 has a maximum transmission power of 28 dB and supports 4×4: 4 MU-MIMO on 5 GHz. This offers more flexibility than ever before, both in terms of coverage and capacity. The throughput management through airtime fairness, the increased performance through AutoRF and higher client device speeds through tape control ensure that your network can adapt to dynamic client behavior.
A capacity of 512 simultaneous client associations and 16 SSIDs as well as two on-board active / standby memory banks ensure that the e600 combines high density with high availability.
Cloud managed access
The cnPilot e600 is managed with the cnMaestro cloud controller or the on-premises controller from Cambium:
Zero touch onboarding and configuration
Inventory tracking and monitoring
Bulk configuration & upgrade
Dashboard views with alarms
Troubleshooting
Hierarchical device organization
Monetize: Vouchers, Social Login
Monetize your WiFi service with cnMaestro's Guest Access features that support splash page hosting, social login, temporary access vouchers and payment gateways. These functions, together with the ability to create time, tariff and volume-limited traffic profiles, make the e600 ideal for educational institutions, hotels, high-density locations, cafes, campsites and offices.
Make sure that every connection to an access point is successful. If the service to a critical resource such as an external gateway or AAA fails, the e600 can switch off the affected SSIDs so that client devices can be redirected to a functioning, neighboring access point.
Indoor meshing over several e600 or with any other Cambium Indoor / Outdoor Enterprise AP offers a convenient way to wirelessly expand the WLAN coverage anywhere.
cnPilot e600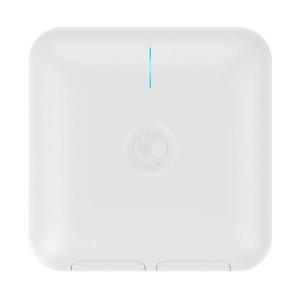 Access point specifications:
Standards: IEEE 802.11a / b / g / n / ac Wave2; IEEE 802.11d / e / h / i / k / r / u / v / w; Modulation: BPSK, QPSK, CCK, 16/64/256-QAM; Radio modes: DSSS, OFDM
MIMO, streams: 2.4 GHz: 2×2: 2 MU-MIMO; 5 GHz: 4×4: 4 MU-MIMO
Beamforming: Supported
Channel width: 20 MHz, 40 MHz, 80 MHz
Concurrent clients: 512
SSIDs: 16
Transmission power (conducted total power): 2.4 GHz: 24 dBm; 5 GHz: 25 dBm
Antenna gain: 2.4 GHz: 5.25 dBi; 5 GHz: 6 dBi
Maximum data rate: 2.4 GHz: 400 Mbps; 5 GHz: 1733 Mbps
Antenna: dual linear polarization, omnidirectional, integrated
Bluetooth: Bluetooth BLE radio, 3.9 dBi antenna
Ethernet connections: Two Gigabit Ethernet ports with automatic detection (10/100/1000 Mbps)
Radio module features: Maximum Ratio Combining (MRC); Cyclic Delay / Shift Diversity (CDD / CSD); Space-time blocking coding (STBC); Low-density parity check (LDPC); Packet aggregation: A-MPDU, A-MSDU
Wi-Fi Alliance: Wi-Fi certified a / b / g / n / ac; WPA2 – Enterprise, Personal, WMM, Passpoint
Power supply: 802.3at PoE injector or PoE + switch, 12 V DC; 802.3af supported with 17 dBm radio power
Dimensions: 18.0 x 18.0 x 4.2 cm
Weight: 558 g
Operating temperature: 0 ° C to + 50 ° C
Operating humidity: 10% to 95% non-condensing
Consumed power: 17.2 W (maximum)
Mounting options: wall and ceiling bracket. Desk option. Supporting T-bar bracket: 14mm, 24mm, 38mm
WLAN functions:
Management modes: cnMaestro cloud-managed; cnMaestro on-premises VM controller-managed autopilot (AP as controller for up to 32 AP networks); Standalone with AP GUI (http / https), CLI (telnet / ssh)
RF Management: AutoRF automatically manages channel and power
Tariff limitation: Static and dynamic tariff limitation per customer, per WLAN
3G / 4G / LTE relief: control point (Hotspot 2.0)
Troubleshooting tools: packet capture, spectrum analyzer, DNS check, ping, trace route, syslog, speed test
cnMaestro controller and network manager:
Flexible installation: cloud and virtual machine are both supported
Network management: centralized configuration, statistics, events, firmware
Hierarchical views: network topology that is mapped to locations and floors
Floor Plans: Upload custom floor plans and create AP maps
RESTful APIs: Interface with external systems