Faster, Whole-Home Wi-Fi
Powerful Coverage, Everywhere.
AmpliFi is more than a common home router: it's the ultimate Wi-Fi system. With turbocharged 802.11ac Wi-Fi, AmpliFi utilizes multiple self-configuring radios and advanced antenna technology to bring ubiquitous Wi-Fi coverage to any home.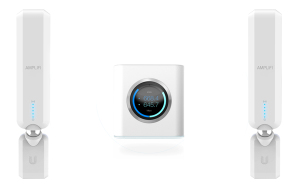 Plug and Play Setup
AmpliFi's app directly links AmpliFi devices to your smartphone via Bluetooth LE. With a simple, intuitive setup, you can manage your new network, monitor ISP speeds, invite guests, and oversee network security.

Extend Your Coverage
AmpliFi's mesh points can be plugged into any outlet. Their high-performance antenna design and adjustability allow them to eliminate dead spots, anywhere utilizing mesh point technology.

Powerful Features for the Connected Home
Stay informed with speed tests, advanced connected device reporting, and seamless guest controls.

Turbocharged 802.11ac Wi-Fi
AmpliFi was designed to meet the demands of the modern connected home. It offers ubiquitous, high-performance connectivity, parallel video streaming, and other intensive bandwidth applications.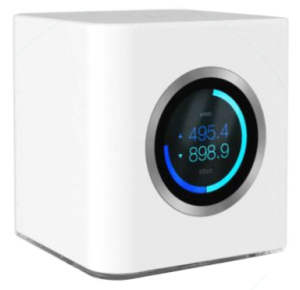 Beautifully Designed
AmpliFi's uncompromising industrial design is meant to complement your home. Show it off proudly; your router is no longer something to hide.


Powerful Antennas
Super Antenna Technology drives superior range and speed.

Smart LCD Screen
Sleek, sphisticated industrial design includes a smart LCD touchscreen on the base.

Significant Signal
Latest 802.11AC Wi-Fi technology, integrated.

Utilizing MeshPoint HD Technology
AmpliFi provides enterprise-strength network capabilities with at-home simplicity. Just unbox the mesh points and plug them in to any standard outlet. With two in every package, boosting your signal strength couldn't be easier.

Innovative Design
The mesh points pivot on a magnetic connector designed to provide power and adjustability

Strong but Subtle
Seamlessly plugs into any outlet: no wires, no fuss.

Superior Perfomance
Integrated antenna for superior range and speed.
Shop Now