The innovative and ideal solution against Covid-19 and more. JVS-FRT-P8 is a triple scanner specially developed to avoid the transmission of the new coronavirus Sars-CoV-2/Covid-19.
The scanner can also be used as an access control for companies. In connection with an automatic door it can be guaranteed that only registered personnel get access to the company. A detailed analysis can be called up if required.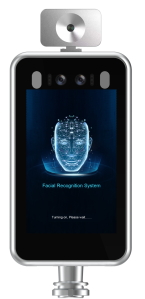 APPLICATION AREAS: retail, catering, hospitals, warehouses, companies, and many more
The JVS-FRT-P8 offers an automatic contact-free body temperature detection, supports mask recognition and includes a voice alarm function (for detecting abnormal temperatures or a missing mask). The camera is based on a unique face recognition algorithm. Face recognition takes place in less than 1 second and is checked on an 8-inch IPS HD screen.



Temperature and Mask Detection
Temperature range: 30°C - 45°C
Accuracy: ±0,3°C indoors
Detection distance: 0,5 to 1 meters
Temperature detection: Supported
Mask detection: Supported
Voice alarm: Supported (for abnormal temperature and missing mask)
Face Recognition
Recognition accuracy: ≥99.7%
Recognition time: <1 second
Face database: ≥30 000 faces
Recognition distance and height: Distance: 0.5 ~ 2 m; Height: 1.2 ~ 2.2 m, adjustable
Recognition angle: ≥30°
Lens angle: 2.8 mm, H: 117.8°, V: 64.1°, D: 141.9°
Black list: Supported
Interface
Ethernet: 10M/100M Ethernet, RJ45 port
Wiegand interface: 1x for output
RS232 &RS485: Supported
Alarm output: Supported
Micro-SD card: Supported, up to 128 GB
Audio input & output: Supported (built-in speakers)
USB: Optional
General
Working temperature: -30°C ~ 60°C
Working humidity: 5%~90% (non-condensing)
Power supply: DC 12 V/3,33 A
Power consumption: ≤20 W
Dimensions: 273 x 144 x 25 mm
Diameter for installation: 30 mm
Screen size: 8-inch, full-view IPS LCD screen
Weight: 4 kg