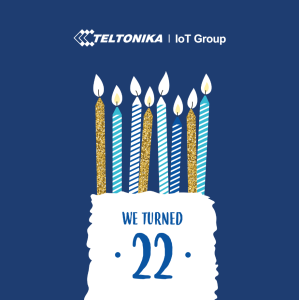 In April, Teltonika celebrates 22 years of success, reliability and quality. As the distributor for Germany, VARIA congratulates warmly!
Back in 1998, the Internet of Things has already played an important role in the company's further development.
Starting from the "TN-1057 conversation duration registration" device, Teltonika took a remarkable pace into an exclusive 10 million IoT devices milestone.
A brief outline of all Teltonika products is probably the most rational way to demonstrate the change from the first IoT device to the innovative IoT solutions known today.

We, your VARIA System GmbH, are at your disposal as the main representative for Germany, Austria and Switzerland. As the main representative of Teltonika you can expect various services from us in addition to the entire product range. On request, we can supply you with Teltonika products with your company branding. In addition to that, we offer competent technical advice or install the software you need on the products you ordered. We also offer the possibility of forecast contracts - the unbeatable option to keep delivery times and prices stable.

---
General Timeline of Teltonika IoT devices
Innovations in IoT technology already started to rise in 1999. At that time, the official Internet of Things statement was accepted to promote RFID technology. While everybody was uncertainly discussing and speculating about the future of IoT, the founder of Teltonika, Arvydas Paukstys, was already on the way to help people by creating the first Teltonika IoT device. If you come to think about the first Teltonika IoT devices, these inventions are rather simple. However, due to their impact on the business, it turned into what Teltonika is today.
---
1998 - 2002
The early 2000s were a worldwide transitional period in which wired communication became mobile. Generally speaking, this period reveals a process in which mobile communication providers made cellular connections available to everyone. However, the invention of mobile connection technology also required additional costs. But many small businesses were not ready enter the mobile connection era yet. Corresponding to this situation, there was a market gap that the first Teltonika IoT device targeted. With the idea to measure the conversation duration, Teltonika presented its first IoT device. However, mobile communication technologies became widely used and technologies like measuring the conversation duration were no longer needed. On the other hand, it was a beginning and a good lesson to the new IoT security project.
The "Guard GSM" was another trial project which suddenly became successful. The main idea was to create an IoT hardware that controls external sensors to take corresponding security measures.
---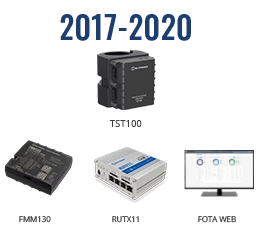 2017-2020
So many new technologies have appeared in the past three years that it's impossible to list them all. The main role, however, is assigned to robots and artificial intelligence. Today you will no longer be surprised by terms such as "Industry 4.0" or "IIOT". They are the result of a successful combination of robotics and artificial intelligence.
As soon as Teltonika started the "Easy Key To IoT" campaign, they also focused increasing the company's efficiency. Many products have been upgraded: automated soldering, testing, assembly, and other manufacturing aspects have been made more efficient. By optimizing these processes, they naturally produced more products, too. They became the major path to the 10 million IoT devices milestone. As the result of the fast manufacturing optimization, Teltonika also presented new generation devices for network solutions. These include RUTX routers as well as the advanced LTE/GNSS terminal FMM. 2019 also marked the beginning of the smart autonomous solutions department. It is now facing new challenges in three main topics: Micro mobility, Asset tracking and Personal tracking.