Manufacturer Wavertech has released a long awaited new firmware. Version 1.3 is now available for download from the manufacturer for Waver SmartOne devices: https://www.wavertech.eu/downloads
The release includes the following new features:
Added User Manager interface with the following features:
Payment portal: Ability to offer prepaid Internet access using PayPal as payment processor
Payment portal: Ability to send credentials via custom SMS on successful subscription
Payment portal settings: Custom texts, logo, background, SMS texts, subscription texts
Payment plans: Custom texts and titles, PayPal button shapes-sizes and color, edit currency and prices, define plan time validity etc.
Payment statistics: PayPal checkout table and revenue graphs (exportable)
HTTP API: Integration with third-party software for user/pass management purposes
Printable user tickets: Custom logo, titles, texts, printing margins etc.
Ticket generation: Quick user/pass generation and printing
Manager account: Limited access to user management and ticket generation
Logs: Payment portal, admin and manager actions in User Manager
Added: RF Country selection – Europe (ETSI), North America (FCC), Asia, South Africa, United Arab Emirates
Added: Time range filtering option for all user tables
Added: Captive Portal – Two new custom extra fields in Email Connect
Added: Captive Portal – Three new custom extra fields in Mobile Connect
Added: Captive Portal – New theme Custom Background Minimal (no terms)
Added: Captive Portal – Auto login options for already logged in users
Added: Captive portal – Custom Paid Access button option with redirection to payment portal
Added: Free users login Statistics with export options
Added: Log for all login types, Client IP Address, MAC and device vendor with export options
Added: Data Retention settings for login log and Free users
Added: FTP Upload options for login log and Free users
Added: Block table on guest network hosts – Ability to block any unwanted devices in the guest network
Improved: Blocked List functionality on WiFi devices table
Improved: Allowed List functionality on guest network hosts table
Improved: Graphs appearance and time range changes (Last hour changed to Last 2 Hours)
Improved: Facebook Login flow to match new platform requirements
Changed: Data retention settings moved to SYSTEM page
Changed: Active guests graph moved to GUEST NETWORK page
Changed: SMS Settings moved to CAPTIVE PORTAL – AUTHENTICATION page under ADVANCED tab
Fixed: VLAN Error reading checkbox value when "VLAN Traffic Only" was selected
Removed: User genre from Facebook Login data (Compliance with Facebook policy for user data processing)
Removed: User credentials management from admin interface (moved to User Manager)
Further details can be found on the website of the manufacturer Wavertech: www.wavertech.eu
Go to Download
Go to Shop
IMPORTANT:
After update, the boot process may take up to 4 minutes to complete.
DO NOT disconnect or power off the device until boot process finishes up!

---
Our impression of the WAC52N
Interface and Features:
SmartOne is a one-time-buy business router that creates a secure, manageable and expandable high-capacity wireless hotspot network for your customers.
Equipped with an easy-to-configure admin interface and a powerful integrated portal editor, you can create your own Guest Captive Portal to easily implement and control the advanced network parameters.
The Wavertech WAC52N is a solid hotspot solution and very easy to use.

The Guest Portal has a customizable feedback system and supports up to five (SMS, Facebook, voucher etc.) login methods with user data collection capabilities.
With Waver SmartOne, you can interact with your guests by creating advertising campaigns and receiving effective customer feedback. Your own interface with start and login screen can be customized.
It helps you improve the Wi-Fi user experience, your business image, services, advertising opportunities, and more.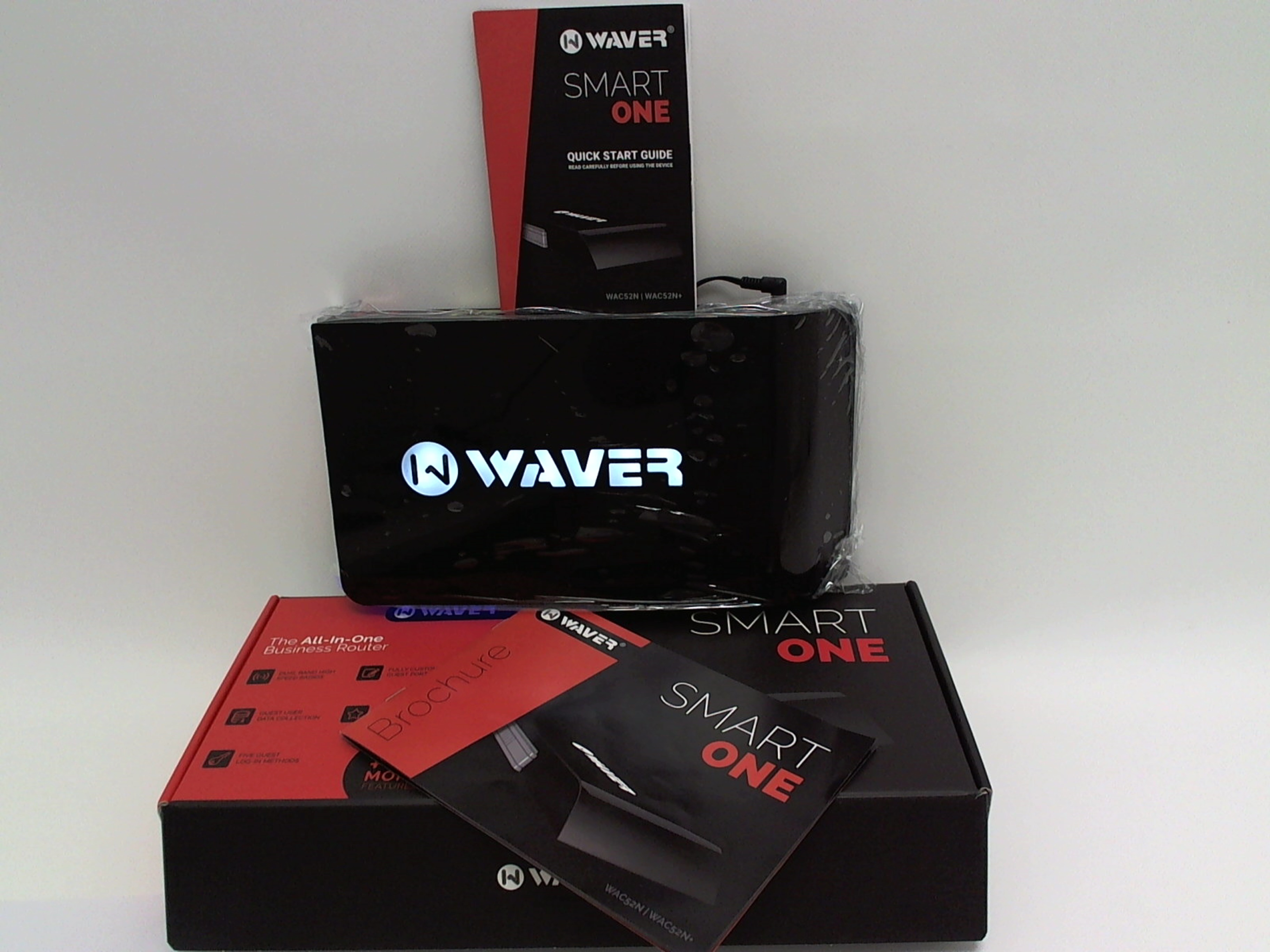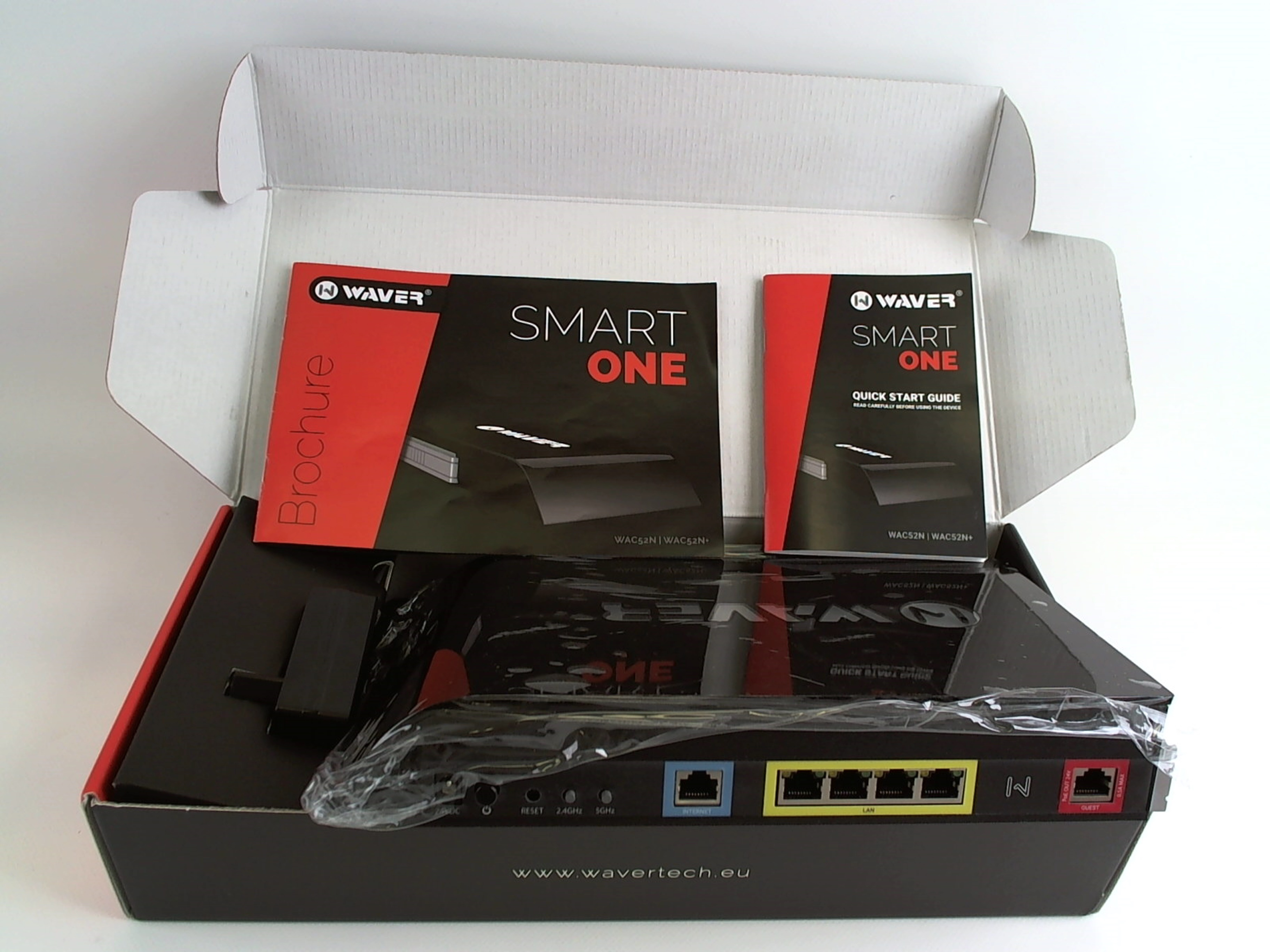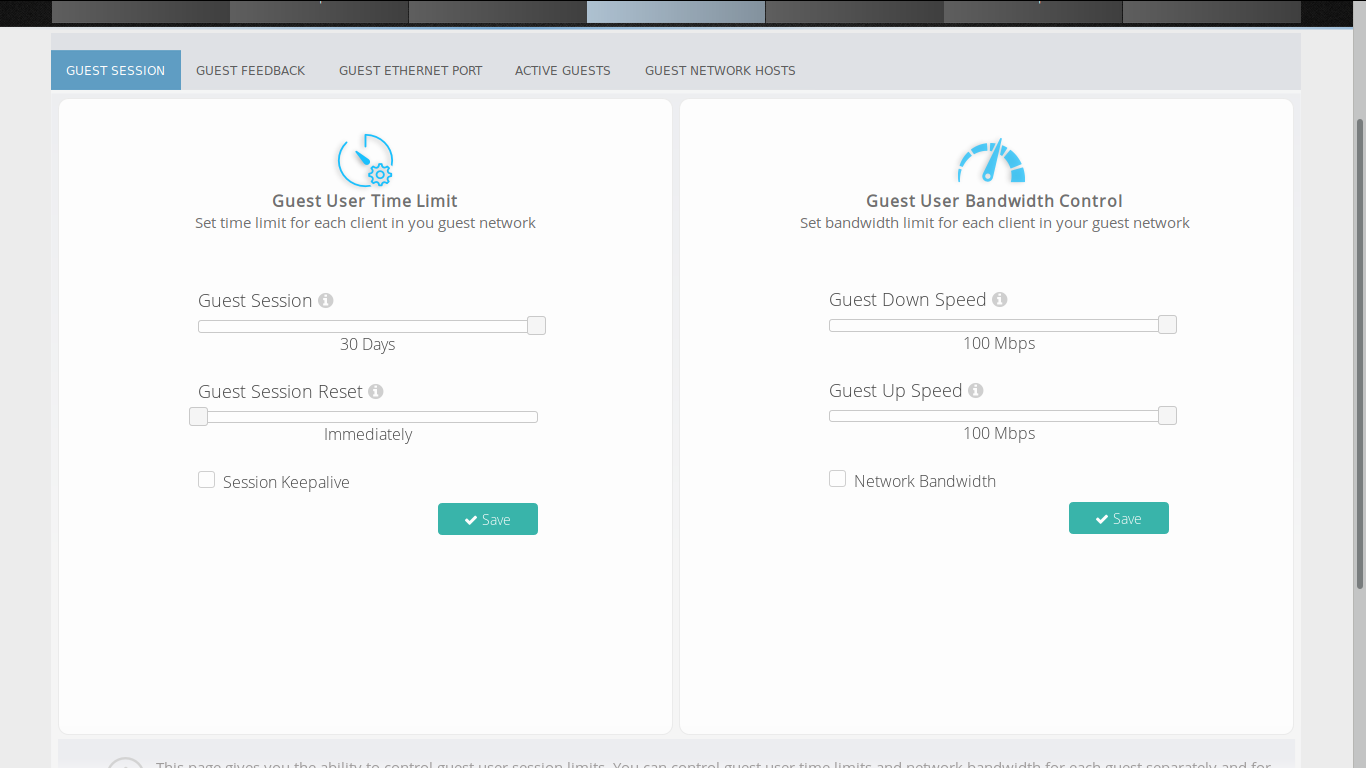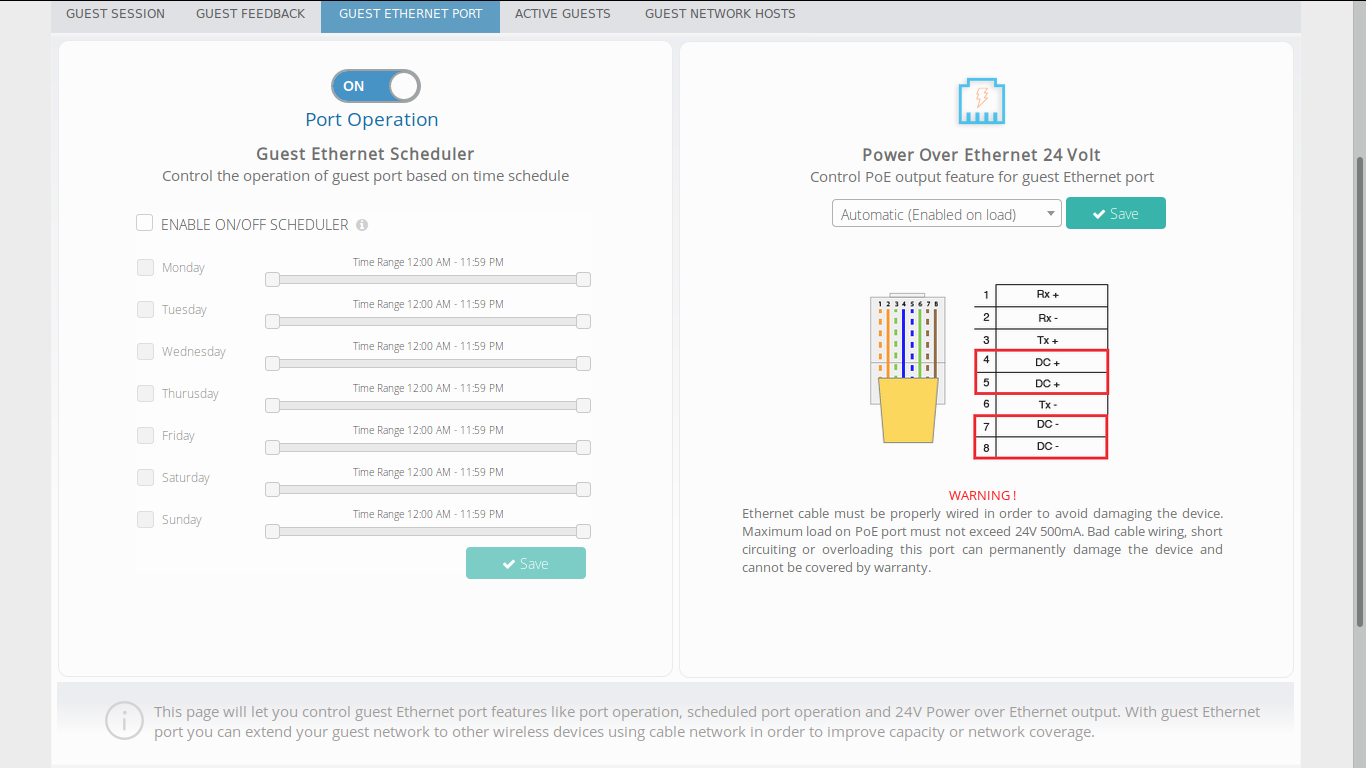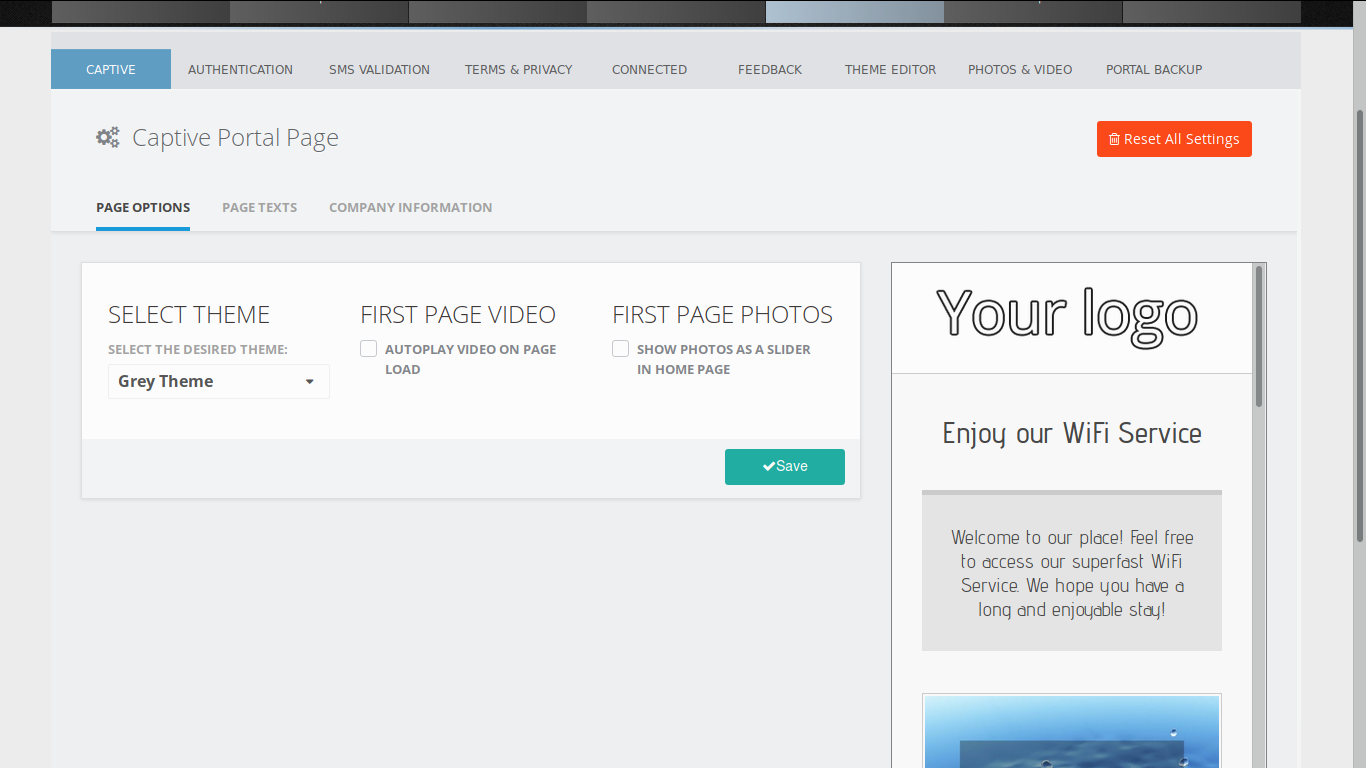 The history of guest logins and connected devices can be specified at off-peak, average and peak times. SmartOne provides statistics for guest user data such as first and last login time, emails, cell phone numbers, reviews with comments from the feedback system and much more. Statistics can be viewed from hour to year periods and immediately exported or synchronized with third-party platforms or an FTP server. All data will be displayed in lists or time-based graphical diagrams for easy evaluation.
GUEST USER AUTHENTICATION
Choose between free access and four different types of authentication methods with data collection capabilities for your guests: username with expiration date, email, Facebook or SMS.
WEBSITE ACCESS FILTER
Website filtering with blacklist and whitelist mode options allows you to fully control web access to specific URLs, making your network more secure or restricting access.
EASY NETWORK CONFIGURATION
The easy-to-manage web interface allows quick configuration of basic and advanced network parameters such as guest-time session, per-guest bandwidth, login types, and more.
---
Go to Shop