Some of the renowned companies that we represent in Germany have made great announcements for 2020.
VARIA also has big plans for 2020. For example, we want to optimize our returns management even more.
We would already like to briefly announce a few specials by our suppliers. We look forward to your visit on our VARIA blog for more detailed information!
---
New FMB640 Design Update by Teltonika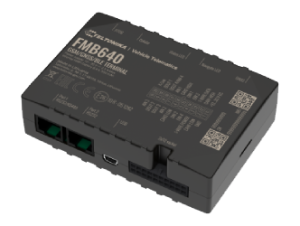 Change: The new casing is smaller. Therefore, it is easier to install the device. In addition to this, the front face is flat. That means that all information about the device, including serial number QR and IMEI number QR fit on the front now. Moreover, the information on the new case is placed using laser marking instead of tampography. It helps to improve manufacturing speed, efficiency and reliability.
Terms: Changes are going to be introduced into manufacturing in January 2020.
The UniFi AP BeaconHD is the fastest way to extend Wi-Fi coverage and increase throughput in your home and office. The sleek design integrates easily into any environment and plugs in to a standard wall outlet. Compared to a standard Wi-Fi device, the powerful BeaconHD uplink results in more than 4x larger Wi-Fi coverage range in an open space.
Features
802.11ac Wave 2, 4x4 MU-MIMO technology
300+ Mbps performance over a wireless mesh hop
Works with UniFi AP or Dream Machine
Automatically discovered for adoption by UniFi Network Controller
UniFi BeaconHD Access Point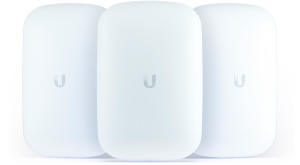 F-R300 5G NR Industrial Router by Four Faith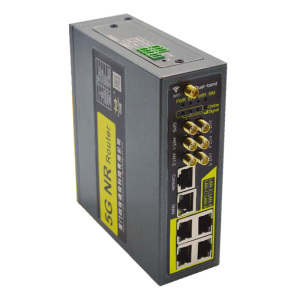 The F-R300 industrial router is an IoT wireless communication router. It is using the public cellular networks 3G/4G/5G to provide long-distance, wireless and large-data transmission functions for users. The product uses a high-performance industrial-grade CPU and wireless module with an embedded real-time operating system as the software support platform. It provides 1x RS232 (or RS485/RS422), 4x Ethernet LAN, 1x Ethernet WAN and a Wi-Fi. It can be connected to serial, Ethernet and Wi-Fi devices at the same time to achieve data pass-through function.
MikroTik is happy to announce an update to their LTE product line for urban and rural areas. The popular SXT, LHG, LtAP and wAP ac LTE devices have evolved. They are getting a Cat. 6 upgrade while still being exceptionally cost-effective. The new R11e-LTE6 modem – heart and brains of MikroTik Cat. 6 devices (including Audience LTE6 kit!) – enables higher speed and new features of LTE Category 6 networking.
Reach speeds of up to 300 Mbps with carrier aggregation, as Cat. 6 allows devices to use multiple bands at the same time.
MikroTik Cat. 6 product line