We are pleased to announce our official channel partnership with Xiamen Four-Faith Communication Technology Co.,Ltd.
Four-Faith is a famous registered company based in the Fujian Province in China. They are renowned as a science and technology innovation leader and a Xiamen City key support high-tech enterprise. Considered as an Internet of Things industry pioneer, they offer IoT communication technology solutions. Furthermore, they offer smart power, smart city, intelligent water conservancy, intelligent disaster prevention and other industry solutions. Their activities include the production and sales for industry users, systems integrators, and mobile operators to provide competitive products, technology, programs and services. Four-Faith is focused on the world of IoT and provides an open concept of cooperation.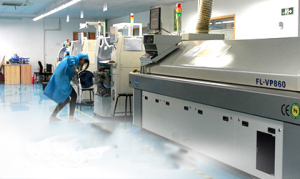 Over the years they have always adhered to their core values of integrity, trust, confidence and faith for conducting their business concepts. They are determined to create customer value with technology and achieve employee happiness with business growth. The products are being used by customers in over 50 countries around the world. Four-Faith has obtained SGS and ISO9001 certifications, along with CE, FCC, EMC, ROHS, environmental testing and National Network Center certifications.
VARIA is now Authorized Channel Partner in Germany!
The F3X26Q industrial router is an IoT wireless communication router. It is using the public cellular GPRS/CDMA/WCDMA/EVDO/LTE networks to provide a long distance, wireless and large data transmission function for users.
The router uses a high-performance industrial-grade CPU and wireless module. An embedded real-time operating system works as the software support platform. It provides a RS232 (or RS485) connection, 1x Ethernet LAN, 1x Ethernet WAN and Wi-Fi. It can be connected to a serial device, Ethernet devices and Wi-Fi devices at the same time to achieve data pass-through function.
The F8L10GW is a wireless data transmission gateway based on the standard LoRaWAN protocol. It can be connected to LoRaWAN terminals in various application nodes and collects useful information. Data can be sent to a cloud server through the cellular 3G/4G network or wired Ethernet. The product uses a high-performance industrial-grade 32-bits CPU and wireless module. An embedded real-time operating system works as the software support platform. The F8L10GW provides 1x Ethernet LAN and 1x Wi-Fi interface. It supports wireless configuration, management and OTA update, as well as GPS. The power input is 100~240 V; optional power supply methods include PoE and DC.