As every year, the registered association TUfast e.V. constructed an electronic race car, the eb019, as well as a driverless race care, the db019, for the Formula Student series.
Around 80 students from various technical departments of the Technical University of Munich are working on the project to then travel to international competitions together.
VARIA supports the TUfast Racing Team with a Wi-Fi board from Ubiquiti. This Wi-Fi board is installed in the electronic control unit of the race car. As an Ethernet bridge, it secures the communication between the converter and the control unit. At the same time, it makes the live telemetry data available to the race engineers via Wi-Fi. Thus, critical parameters such as the battery temperature can be monitored during the race. In addition, logs from the rides can be downloaded and software updates can be installed on the car via Wi-Fi.
The Wi-Fi board helped us a lot. Without this equipment, we wouldn't have been able to build telemetry so professionally.
Thanks to the support of VARIA, we have managed to develop and build the most successful Formula Student car.
The 2019 season was very successful for the TUfast Racing Team. With the electronic race car, they achieved a total of four overall victories at Formula Student East (Hungary), Austria, Germany and Spain. The driverless race car finished second in Spain.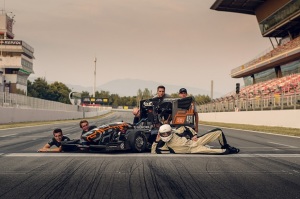 Additional Information
© Text and images: TUfast e.V., © F. Heinrich. Use only with the express permission of the author.
Website of the author: TUfast e.V.:
https://tufast-racingteam.de/