Project Goal: Wi-Fi network for the BMW Berlin Marathon on September 24th 2017
Story Text for the Successful Customer Project: Michael Heinz - owner of Xanica Consulting
---
For 6 years, Xanica has been working together with K-TEL, year after year, on the realization for the BMB Berlin Marathon. This year, a completely new concept for the technical realization and the broadband connection was implemented in close cooperation with them.
TV broadcasters, coordination centers, info points, start and finish were provided access with radio relays, redundant backups and dual geographical network access. In addition to that, access was also provided to the press center, paddock, back offices and lounges far off the course.
Facts and Figures about the Marathon
- 42.195 km running distance
- 137 nations are participating
- 40.299 runners are at the starting line
- 39.235 make it to the finish line!
- 600 rescue workers are communicating with each other
- 300 journalists are broadcasting live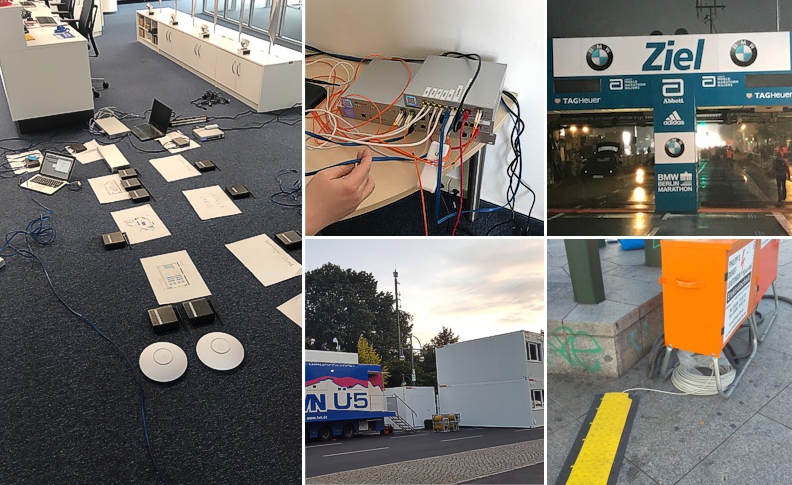 What is necessary for an event like that? Here are the raw facts:
- Walked distance for installations: 389 km = 9.2 marathon courses
- Laid cable: 16000 m copper, 12000 m optical fiber (4000 m of that in the start/finish area)
- Endpoints: more than 30 handover points for the end-user
- Band widths: from 2 Mbit/s to 600 Mbit/s
- Traffic: approx. 32.4 TB
- Wi-Fi access points: more than 40

Equipment:
All the equipment has been changed compared to the previous years. Instead, the homogeneously designed technology by UBNT was deployed.
In doing so, we had the 24/7 support team of VARIA System GmbH at our disposal, both beforehand during the planning process and at the time of the implementation.

What use would be the best equipment without the best team?
The fact that every communication solution at the BMW Berlin Marathon was carrying out its duty accurately and continuously, is especially due to our highly motivated team.
From the planning phase to the last sentence of the live broadcast, bright minds have been calculating and adjusting band widths and latencies, connecting time measuring stations, laying and linking high-speed data lines and have been ready to respond immediately to adjustments and malfunctions - in such a way that the organizers and reporters could offer an interruption-free broadcast to their viewers around the globe.
Thanks to Xanica's "24/7 on-site team", the response to changes, adjustments, wishes and measures of the organizer was immediate.