RUTX10 - NEXT GENERATION ENTERPRISE ROUTER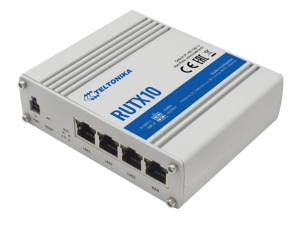 Teltonika is excited to announce a brand new next-generation Enterprise router, RUTX10. This product is the step into the Enterprise and small office networking market. The router is equipped with Wave-2 802.11ac dual-band Wi-Fi with speeds up to 867 Mbps. The beamforming technology takes the wireless browsing experience to the next level.
Powerful hardware combined with all advanced RutOS software and security features makes this device a great performer as a fast, secure and reliable Enterprise router. In addition, Teltonika RMS provides fast, intuitive and easy Enterprise network infrastructure management and monitoring options.
Price and availability of RUTX10
---



HIGHER DATA RATE
Delivering data rates of up to 867 Mbps (8K video streaming)
HIGHER CAPACITY
More devices can be simultaneously connected to a Wi-Fi without loosing transfer speed
LOW LATENCY
For industrial automation, live streaming and browsing applications that are latency sensitive
---
RUTX11 - NEXT-GENERATION LTE CAT. 6 INDUSTRIAL CELLULAR ROUTER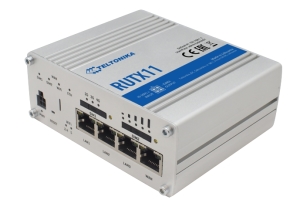 Introducing RUTX11, the fastest and most feature rich device that Teltonika have build thus far. Application possibilities of this model are vast – starting with power-hungry Enterprise setups all the way to heavy-duty industrial wireless solutions. In addition, Teltonika equipped this router with Bluetooth LE technology to expand the usage even further. We are talking about connecting sensors and RFID tags.
RUTX11 is the most powerful and feature-rich device within the Teltonika Networking products range. Dual-SIM with Cat. 6 LTE tops speeds up to 300 Mbps. It has 4x Gigabit Ethernet ports and dual-band AC 5 Wi-Fi for throughput speeds up to 867 Mbps. Bluetooth LE and USB interfaces are essential for connecting HID (Human Interface devices). The only limitation this router has is your imagination.
Price and availability of RUTX11
---



BLUETOOTH LE
To connect sensors and nods as well as use wireless protocols for RS232 legacy devices
CAT. 6 LTE
Mobile Internet connection able to deliver transmission rates up to 300 Mbps
DUAL-BAND 5 AC WI-FI
Synergizing Gigabit Ethernet ports and Cat. 6 LTE, Wi-Fi is able to throughput speeds up to 867 Mbps