Teltonika is happy to present the newest member of their 2G devices portfolio – MSP500 speed limiter!
The main advantage of MSP500 is its speed limiting functionality that is activated by the internal relay. It ensures the safety of vehicles, cargo and – most importantly – of drivers by limiting speed in different areas. Deliveries will not be delayed or disrupted because of accidents.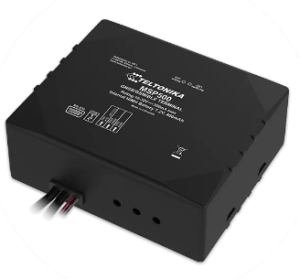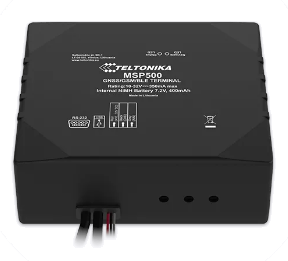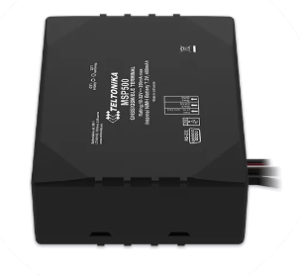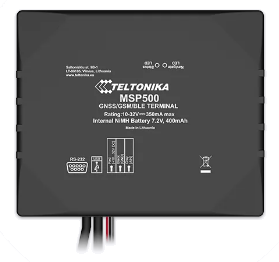 MSP500 Features
With speed limiter, vehicle owners can avoid additional service expenses (i.e. engine repair or tires wear) and accomplish timely maintenance in the range of planned costs. Fuel consumption is one of the components constituting delivery cost. Thanks to the speed limiting feature, there will be no possibility to overspeed, thus, fuel usage will not increase due to improper driver behavior.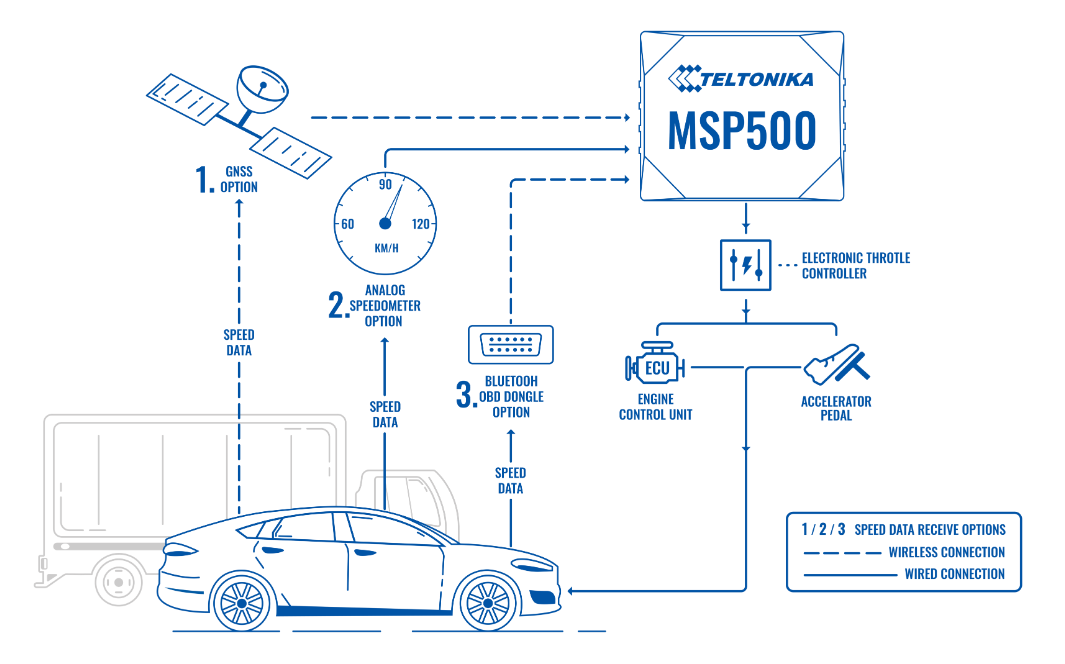 Some of the countries in the world (e.g., India, Kenya, Ethiopia, Philippines, Malaysia, Hong Kong, Canada) already have regulations for a mandatory use of speed limiters in commercial vehicles. This best practice continues to spread into other countries (e.g., the United Kingdom, EU countries, Commonwealth of Australia) that are also planning to have similar regulations.
GNSS
GNSS: GPS, GLONASS, GALILEO, BEIDOU, SBAS, QZSS, DGPS, AGPS
Receiver: 33 channels
Tracking sensitivity: -165 dBm
Accuracy: <3 m
Hot start: <1 s
Warm start: <25 s
Cold start: <35 s
CELLULAR
Technology: GSM
2G bands: Quad-band 850/900/1800/1900 MHz
Data transfer: GPRS Multi-Slot Class 12 (up to 240 kbps), GPRS Mobile Station Class B
Data support: SMS (text/data)
POWER
Input voltage range: 10 - 30 V DC with overvoltage protection
Back-up battery: 400 mAh Ni-MH battery 7.2 V (2.88 Wh)
Power consumption: At 12 V <1.4 mA (Ultra Deep Sleep); At 12 V <3.8 mA (Deep Sleep); At 12 V <4.1 mA (Online Deep Sleep); At 12 V <8.6 mA (GPS Sleep); At 12 V <26.6 mA (nominal)
BLUETOOTH
Specification: 4.0 + LE
Supported peripherals: Temperature and humidity sensor, headset, OBDII dongle, Inateck barcode scanner, Universal BLE sensors support
INTERFACE
Analog input: 1
RS232: 1
Internal relay: 1
Internal buzzer: 1
Terminal block: 3 contacts
GNSS antenna: Internal high-gain
GSM antenna: Internal high-gain
USB: Type B
LED behavior: 2 status LED lights
SIM: Micro-SIM + eSIM possibility
Memory: 128 MB internal flash memory
OPERATING ENVIRONMENT
Operating temperature (without battery): -40°C to +85°C
Storage temperature (without battery): -40°C to +85°C
Operating humidity: 5% to 95% non-condensing
Ingress Protection Rating: IP65
Charge temperature (battery): 0°C to +45°C
Discharge temperature (battery): -20°C to +60°C
Storage temperature (battery): -20°C to +45°C for 1 month; -20°C to +35°C for 6 months