The UniFi Dream Machine is the easiest way to introduce UniFi to homes and businesses.
Build your home or office network with the Ubiquiti UniFi® Dream Machine, model UDM. Powered by a fast 1.7 GHz quad‑core processor, the UDM combines multiple functions into a single elegant device:
High‑performance 802.11ac 4x4 Wave 2 access point (AP)
Managed 4-port Gigabit switch
Advanced security gateway
UniFi Network controller
The UDM is the ideal first UniFi device. It's easy to use and still offers all the benefits of UniFi for homes and businesses. Easily expand the UDM by adding more UniFi switches or APs while managing the network with the integrated controller. The UniFi Network app and UniFi cloud provide remote access to the controller from anywhere. The entire network can be kept updated and safe with automated software updates, which are free of charge.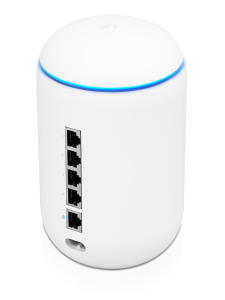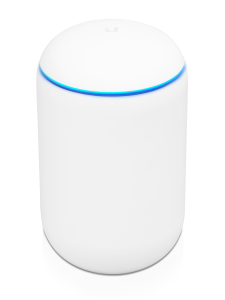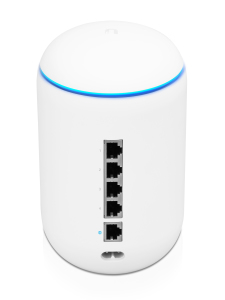 802.11ac Wave 2 has become the de facto Wi-Fi radio standard, no matter what the environment.
Home use requires extremely high throughput (4x4 MIMO streams) for video streaming, low‑latency gaming, and local video, photo, and file transfers. The UDM delivers the requisite high-performance Wi-Fi and includes integrated Ethernet ports for attaching local media.
The UDM is also ideal for enterprise use. It fits into high‑density environments as part of the overall enterprise network, including small, remote corporate offices, retail stores, and hospitality locales. You can also expand the Wi-Fi coverage by adding more APs via the built‑in switch.
Powerful Security
The UDM offers advanced firewall policies and persistent threat management to act as an Intrusion Prevention System (IPS) and Intrusion Detection System (IDS).
Automatic QoS
Top QoS priority is assigned to voice and video traffic for clear calls and lag‑free video streaming.
Convenient VLAN Support
The UDM can create virtual network segments for security and network traffic management.
VPN Server for Secure Communications
A site-to-site VPN secures and encrypts private data communications traveling over the internet.