The fastest way to a 19 inch APU board solution: the rack configurator
The VARIA rack configurator allows you to customize rack bundles according to your wishes. From choosing different board variants, whether single- or dual-board operation, to selecting memory and power supply.
In the configurator, the positioning can be selected individually. Depending on requirements, only one board can be used, or different variants on both sides. The case can also be ordered without further hardware.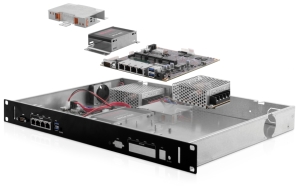 The VARIA Store's rack configurator offers the easiest and fastest way to select all options for the respective system board.
Your options at a glance (as of July 2019):
Front panel for single- or dual-board operation
Board type matching the panel selection
Alternative pull handles
Hard drive options (2.5")
Storage options matching the board selection
Power supply
Redundancy module
Individual front panel print
Assembly service
Show prices and availability
---
Your options in detail

Delivered pre-assembled - assembly service
Upon request, the assembly of the bundle can also be selected in the configurator. All components will be installed and checked before shipping.

Compatible board versions
The configurator is available for the following boards:
- APU1, APU2 and APU3 series
- APU4 series
The boards are supplied by the manufacturer PC Engines.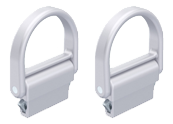 Folding handles for short cabinets
As an alternative to the DualRack's standard handles, the folding pull handles can also be selected via the configurator. The finger handle with SNAP technology can be folded to the side and thus uses less space. It is attached by simply clicking it into the provided mounting hole.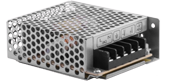 Internal power supply
In contrast to the factory-mount power connector at the board (2.5 mm jack), Mean Well branded industrial PSUs are used for the internal power supply. These PSUs provide the necessary stability and longevity of the board components in continuous operation.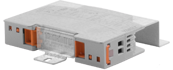 Redundancy module for more reliability
In addition to the internal power supply, the VARIA redundancy module ensures additional fail-safety of sensitive network systems in dual-board operations (e.g. in backup systems).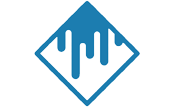 Your individual high-quality print
The high-quality front panel can be printed with your design according to your individual specifications. The high resolution and outstanding sharpness result in an impressive print. For the design of the print, we will contact you after your order has been placed. We are happy to assist you in preparing the print data for the final layout.
---
About the 19" DualRack enclosure
The material and high quality of the enclosure have remained unchanged. Only high-quality galvanized steel is used, which provides the necessary stability and longevity. The black front panel is powder-coated.
Further information on the high-quality enclosures of the DualRack configurator can be found here: