ANEL-Elektronik's new firmware has been completed and is available for download for the models NET-PwrCtrl - ADV, HUT and IO.
Moreover, the manufacturer is introducing the new, small DIN rail model NET-PwrCtrl ONE™.
New in the firmware version 6.4:
- Plain text backup system. Settings can be changed and loaded.
- Individual functions can be reset to the factory settings.
Download directly from the manufacturer:
New in development - NET-PwrCtrl ONE HUT:
The current development intends to include the following features:
A relay controlled via Ethernet/Internet using the web browser, worldwide control.
No software (except web browser) necessary to control or adjust.
Can be used by any operating system (with a web browser.
Electrical measurement:
Voltage RMS
Active power (W)
Current RMS
Apparent power (VA)
Line frequency
Reactive power (VAR)
Power factor (cos φ)
More than 0,5% accuracy
3 electricity meters (2 erasable)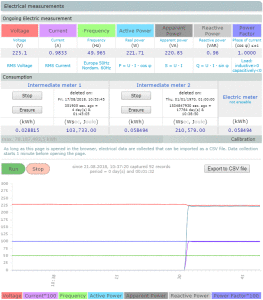 HTML of the pages can be changed and uploaded to the relay.
Automatic IP allocation: DHCP
Automatic time setting from an SNTP server
Call via hostname = e.g.: https://net-control oder IP
Name/Position/Function with a max. of 35 characters
Free choice of the HTTP port (0-65535), thus several devices can be accessed from the Internet.
'HoldOn' button: Relay or IO is activated as long as the key is pressed down.
4 timers +1 solar timer per socket with TimeLine display.
Exceptions (day / month): On selected days, all timers are skipped.
Plain text backup system: Settings can be changed and loaded.
Keepalive function: A network device can be pinged and - should it not respond - be disconnected from the power supply for an adjustable time period.
Automatic and time-delayed (0 - 18.2 h) switching on of the sockets after a start (power failure).
Switching procedure can also be performed as pulse (0 - 65535 sec.).
Relay can be locked.
Wake on LAN
User system with rights assignment.
Logbook of the last 128 events, power failures are registered (remains without voltage)
UDP interface and URL interface for integration into own software
LabView Virtual Instrument for UDP interface
Multi NET-PwrCtrl controls all devices in the network (also as C# source code).
Firmware upgrade via Ethernet possible at any time (Ethernet Bootloader).
Sturdy DIN rail housing
About the manufacturer:
The company ANEL-Elektronik specializes in the manufacturing and distribution of sockets that can be controlled with a web browser via Ethernet/Internet.
That's possible with every operating system world-wide - there is no need for additional software.

---
Zum Shop